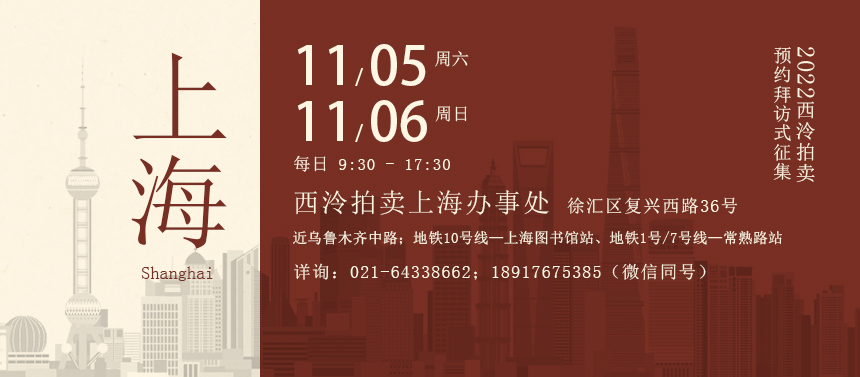 Consignment by Appointment

Due to epidemic prevention and control protocols, you may need to make an appointment for the consignment. Please wear a mask, take a temperature and present your health code and 72-hour negative nucleic acid proof beforehand.

Time for Consignment

November 5-6 (Saturday-Sunday)
9:30-17:30
Contact us
+86 021 64338662; +86 189 1767 5385 (WeChat account)

Address
Please contact our staff in advance to agree on a specific meeting or visit our Shanghai Branch at No.36, Fuxing West Road, Xuhui District, Shanghai
Category
Categories: Chinese paintings & calligraphy, important Chinese and international letters and manuscripts, ancient books & rubbings, Tianhuang stones, fine seals and inkstones, refined articles in the study, bronze wares (with provenance), classical Chinese furniture, Zisha wares, Chinese statues, Chinese coins & paper money, oil paintings & sculpture, photographs and film, illustrations & comic works, ancient jade art, contemporary jade carvings, Hetian seed jade, famous Chinese and jewelry and Chinese and foreign famous wine.
Xiling Yinshe Auction, Shanghai Office

No. 36 West Fuxing Road
Inheriting the cultural lineage of Xiling Society of Seal Arts, we are eager to engage you into the beauty of art life!
Standing consignments for Xiling Yinshe 2022 Autumn Auction, Xiling Yinshe (Shaoxing) Auctions and Xiling Online Auctions are available in Hangzhou headquarters and branch offices in Beijing and Shanghai.
Please keep updated on us via following approaches:
1. Visit www.xlysauc.com
2. Follow our Wechat 'Xiling Auction'
3. Follow our Weibo 'Xiling Yinshe Auction'