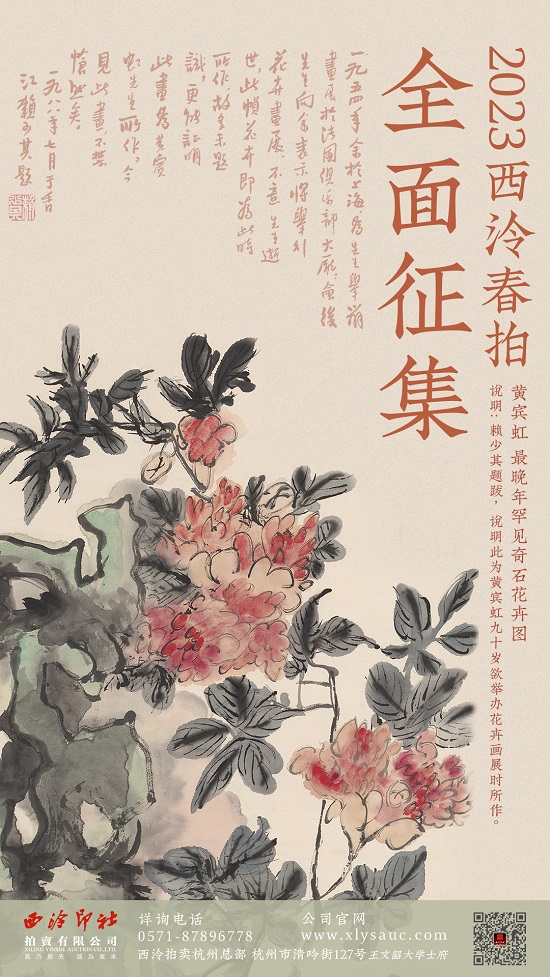 The Xiling Yinshe autumn auction concluded on March 17th, 2023, with remarkable success, raking in a total transaction volume of RMB 840 million and a high turnover rate of 83 percent! This brought the delayed 2022 autumn auction season in China to a close with a bang.
This event marked the first large-scale auction after the 30th anniversary celebration of Chinese cultural relics and art auctions. Under an academic atmosphere with tremendous popularity in the southern China art market, both the preview and auction sites are packed with people from all over the country. Apart from selecting, savoring and bidding for their favorites, some participants also brought new masterpieces for the 2023 Xiling Yinshe spring auction.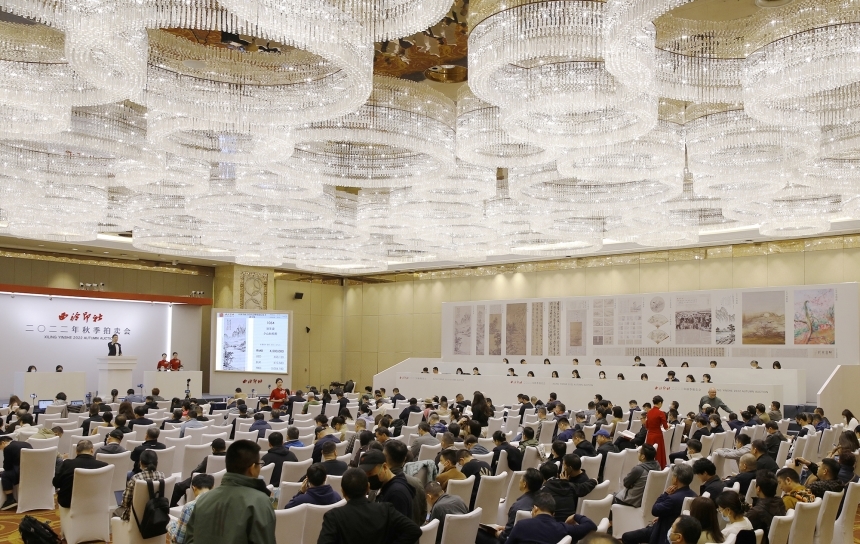 The event featured 27 sales and three halls where the sales would be auctioned simultaneously. The date of March 16th was the busiest, as the auctions in these halls all stayed up till 2 am the next day, a significant sign that the art market is recovering.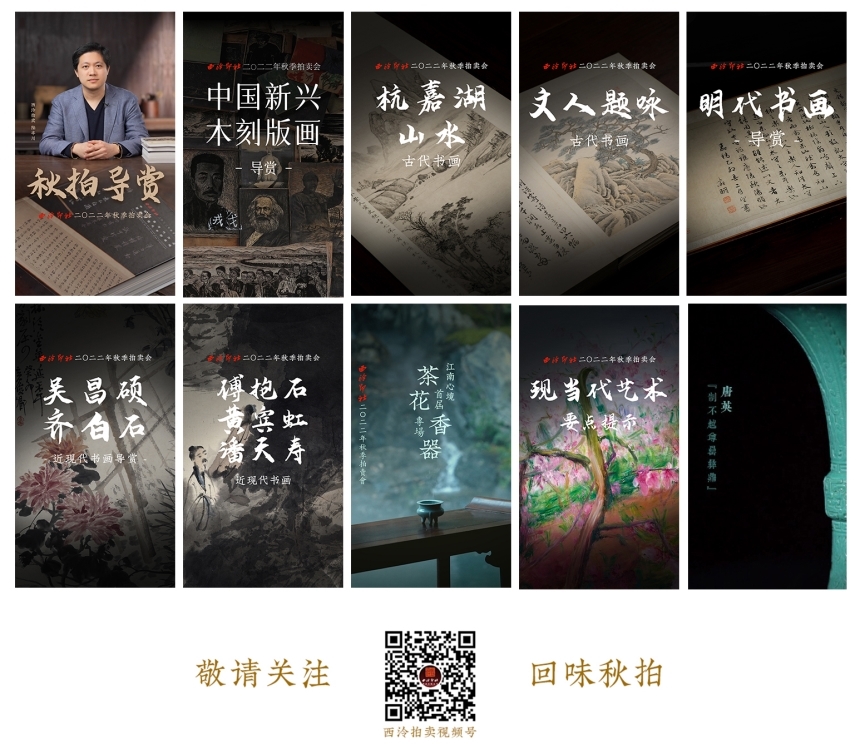 During this autumn auction, Xiling Yinshe Auction's official video account drew over 200,000 views and nearly 10,000 comments, to introduce the auction and items in a comprehensive manner, including 'in-depth appreciation of important lots', 'interviews with the curators' and 'live-action concept videos'.
Before the auction began, Xiling Yinshe Auction's official video account had conducted a series of interviews, in which the curators expressed their innovative ideas and concepts behind the brand's characteristics, introduced important lots academically, and shared the unique characteristics of Jiangnan culture and scholarliness by presenting scholar's ceramics as well as tea, flower and incense utensils.
There were also videos showing other themes like local chronicle-related artworks, paintings and calligraph of the Ming dynasty, scholars' inscriptions, modern art masters and Rong Ge's prints to satisfy the collectors. These videos were viewed for over 120,000 times totally.
Additionally, Xiling Yinshe arranged 16 high-quality live-streaming shows as well to indicate the good reputation of the centennial brand and spread the traditional Chinese culture on the social level.
Chinese Painting and Calligraphy
The turnover of the Chinese Paintings and Calligraphy of Xiling Yinshe 2022 Autumn Auction totaled RMB 340 million, most of which was from the Classical chinese paintings and calligraphy. Following the triumph of 'Xin'an School' series in the last auction, we follow up the victory to promote the theme about the landscape paintings related to Hang-Jia-Hu (Hangzhou, Jiaxing and Huzhou) area.
The theme studied the local painting history geographically and culturally through a few typical and rare works, so as to comprehend the two most celebrated collection families in Zhejiang: Xiang Yuanbian and Li Rihua. A very significant trial to understand the cities and the people living within via academic and cultural exchanges such as exhibitions, salons and so on.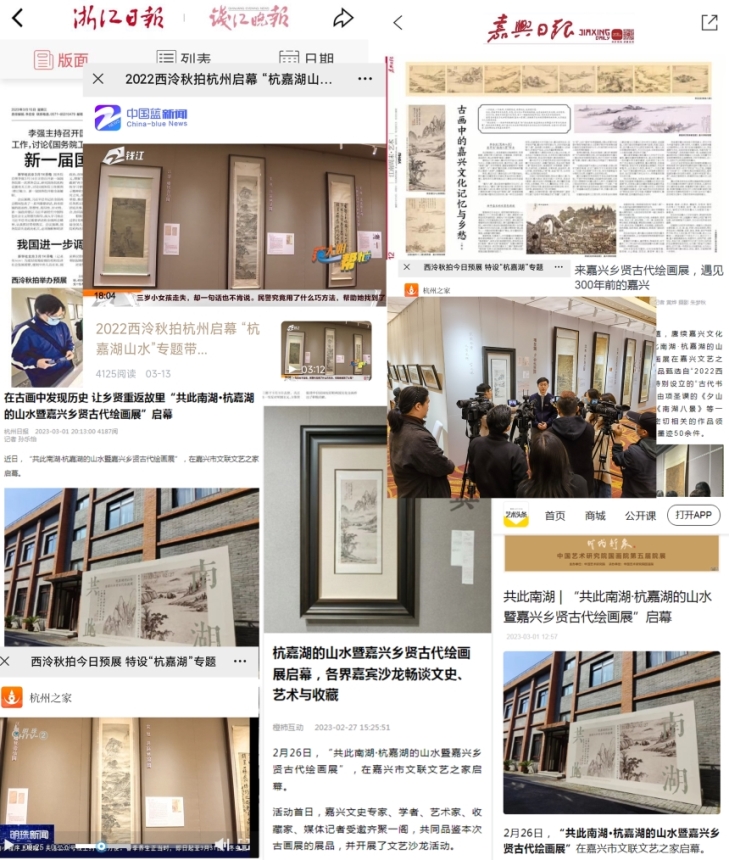 The Landscape Paintings Related to Hang-Jia-Hu area exhibition has received considerable attention from the press.
Through in-depth research and analysis of Xiling Yinshe autumn auction's Classical Chinese Paintings & Calligraphy and Manuscripts of Ming and Qing Dynasties sale, we uncovered fascinating insights into the artistic creations of Xiang Shengmo, Song Xu, and Li Hanmei. In Xiang's Landscape in Autumn, we discovered the unique position of Xiang in Wu Hufan's heart through Wu's inscription. With Song Xu's painting Cottage, we pieced together the identity of the painting's recipient and the reason behind the creation of the impressive three-meter-long artwork. And in Li Hanmei's Eight Scenic Spots of Jiaxing, we found the close relationship between this piece and the legacy of his great-grandfather, Li Rihua's Jiaxing County Chronicles, so that we could take a glimpse of the eight scenic spots in ancient times.
The Jiaxing based Xiang and Li's families produced many skilled painters in history, which can't help being associated with the relationship between the rich family collection, painting gift and achievement. This was also mentioned in Wu Hufan's inscription for the painting Landscape in Autumn.
Three leading lots valued over RMB 10 million, two large collection families and one watertown in Jiangnan area, were all woven into the stories about how the scholars centuries ago created these masterpieces, and how inspired us even in nowadays. This is the topic circulating at the exhibitions and salons.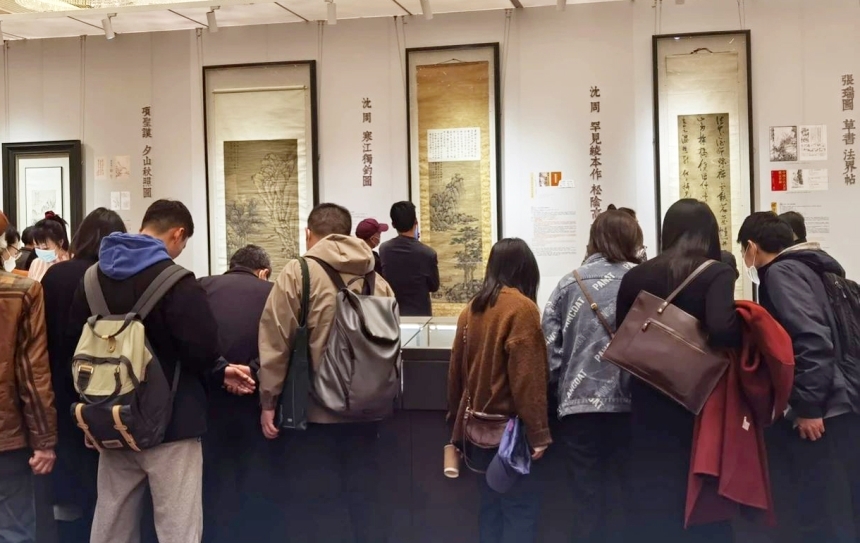 Aiming to depict a comprehensive painting history in Hang-Jia-Hu area, each lot has been chronicled with its value excavated from different historial perspectives, so as to enrich and expand the meaning of 'imbuing our daily life with art'.
Scholars' inscriptions is an extention of the exploration of the relationship between the scholars. The Paintings and Calligraphy created by Xiao Yiyun who applied Gushu School painting style for the album could be compared to the masterpiece Landscapes housed by the Imperial Palace. The recipient Zhao Maozhi even invited dozens of literati to inscribe for it. Xiao's album was finally hammered at RMB 5.175 million, the best auction record for his personal works.
[You tong, Jiang Chenying, et al.] Xiao Yiyun Paintings and Calligraphy
Sale Price: RMB 5,175,000
A Record High for Xiao Yiyun's Works
The sale of Classical Chinese Paintings & Calligraphy was a fascinating exploration in the evolution of various calligraphers' styles. One of the most remarkable pieces was Wen Zhengming's The Pavilion of the Drunken Immortal, which exemplifies his clear and handsome style that remained consistent through his life. Wen, who practiced calligraphy every day even in his old age, inspired contemporary master Qi Gong to strive harder to hone his skills. This masterpiece fetched an impressive RMB 6.9 million.
Wen Zhengming Calligraphy
Sale Price: RMB 6,900,000
Xiling Yinshe Auction's commitment to manifesting both the documentary value and calligraphic excellence was exemplified in this Important Letters and Manuscripts sale. The bidding for Xu Mengzhang's Poem in Running Script (Poem Scroll on Climbing Mount Tai) lasted for over 20 minutes, as collectors were captivated by Mengzhang's bold calligraphic style. Bidding was fierce both in and outside of the venue, leading to a final sale price of over RMB 3 million, well surpassing the initial estimate of RMB 400,000. The premium of over RMB 2 million set a new personal record for the artist, highlighting the continued demand for exceptional calligraphy works.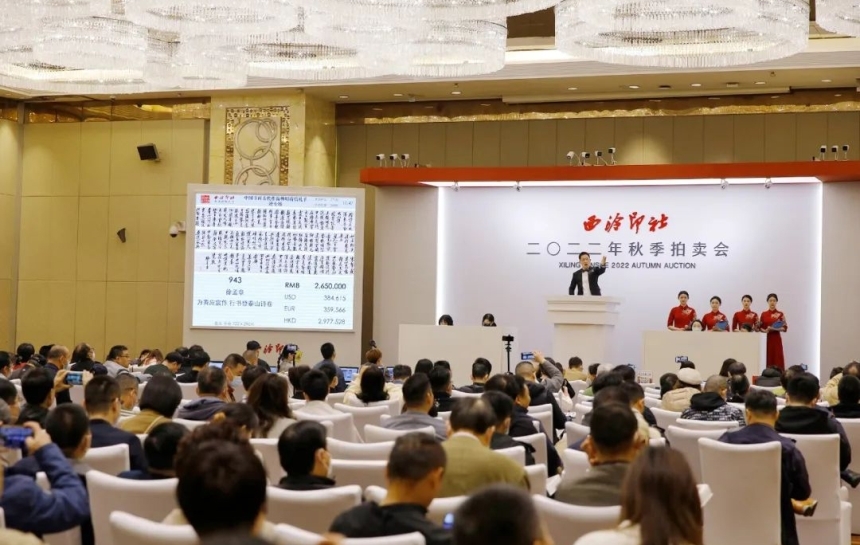 Xu Mengzhang Poem In Running Script
Sale Price: RMB 3,047,000
A Record High for Xu Mengzhang's Works
The modern and contemporary calligraphy and painting session has won great attentions for its unique approach in constructing the artistic career of renowned painters. By using works from different periods as nodes, the auction has skillfully outlined the evolution of their painting styles. One standout piece is Huang Binhong's Misty Mountains, which he painted during his trip to Guangxi. The piece, a stunning example of Huang's iconic style, was sold for an impressive price of RMB 10.465 million.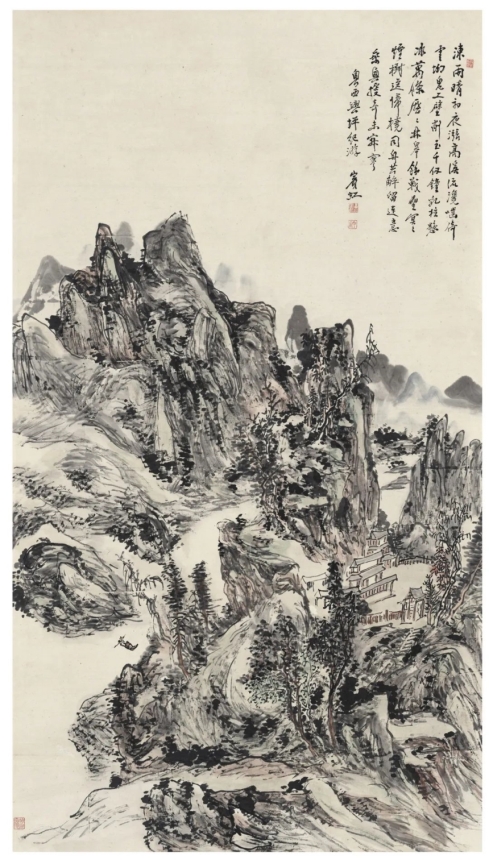 Huang Binhong Misty Mountains
Sale Price: RMB 10,465,000
We have also presented a rare and valuable piece of art in the form of Fu Baoshi's Visiting a Friend from the Jingangpo period. This large-scale masterpiece was fortunately spared from the ravages of war and was recently appreciated and valued by contemporary connoisseurs. Its auction price soared over RMB 9 million, a testament to the significance and enduring appeal of Fu Baoshi's artistic legacy.

Fu Baoshi Visiting Friend
Sale Price: RMB 9,085,000
Xiling Yinshe Auction orchestrated a harmonious symphony of ancient and modern artworks, with renowned artists serving as the virtuosos, creating a beautiful melody that resonated with collectors from around the world. The auction house expresses its sincere gratitude to all the enthusiastic supporters who participated in the event, and eagerly anticipates the next opportunity to bring together the finest art pieces for their enjoyment and acquisition.
Important Manuscripts, Photographs and Films
The opening of the Important Manuscripts and Photographs sale at Xiling Yinshe Auction offered a range of old collections by renowned artists. Drawing attention to the writings of scholars and educators, the sale proved to be a hit with many collectors, leading to intense bidding wars. Among the highlights was Lot 717, a diary penned by Mei Yiqi during his presidency at Southwest University. A true representation of valuable manuscripts in the market, the item was initially valued at RMB 900,000 but eventually sold for over RMB 1 million. This success story further attests to the session's emphasis on uncovering diary manuscripts of notable figures.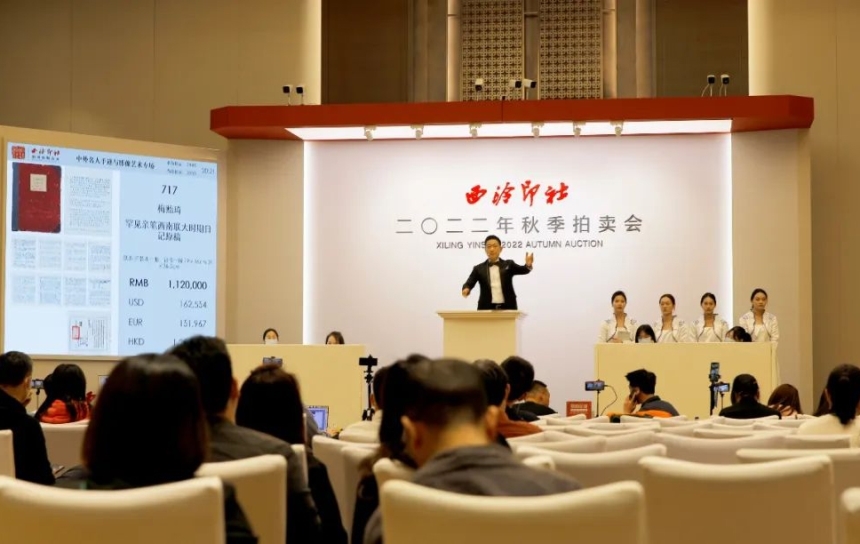 Mei Yiqirare Diaries During His Stay in the Southwest University
Sale Price: RMB 1,288,000
Xiling Yinshe Auction's dedication to promoting the cultural heritage of the Republic of China period continued with the sale of The Treasures of Yan Fu's Clan: Family Letters and Manuscripts in the 2022 Spring Auction. In a natural continuation, the auction house presented another important work from the esteemed educator, Yan Fu, as a centerpiece of the special collection. This work was highly anticipated by collectors and generated intense bidding. Moreover, in August 2022, Xiling Yinshe Auction hosted a grand exhibition titled Yan Fu's Family Letters and Cultural Relics of Fujian Notables at Yan Fu's former residence in Sanfangqi Alley, Fuzhou. The exhibition was widely attended by collectors, tourists, and news media, receiving great acclaim.
Yan Fu Seven-Character Couplet in Running Script
Sale Price: RMB 862,500
Rare and Fine Ancient Books
The sale of Fine Ancient Books and Ink Rubbings launched a remarkable collection of rare and exquisite ancient books and ink rubbings. With a focus on academic research and scholarship, the session offered collectors a glimpse into the rich cultural heritage of China through special sales such as Liuzhou's Collection of Rubbings and Interactions, Meeting with Stone Engravers, Book Collectors and Scholars from Zhejiang in the Qing dynasty, and Lanting Collection throughout the dynasties. These special sales proved to be immensely popular with buyers, who were captivated by the historical significance and the beauty of items on offer.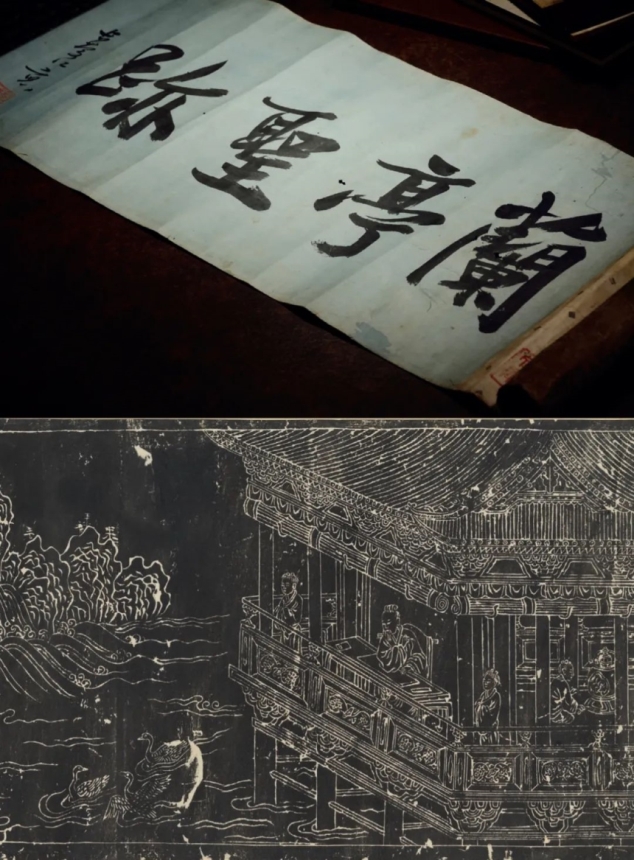 [Kyoto Ninnaji Bunko] Feng Shu Hua Tie Including Lan Ting Liu Shang Tu
Sale Price: RMB 1,035,000
The Lanting sale featured a special back cover lot, the Shaoxing reprint of Feng Shu Hua Tie Including Lan Ting Liu Shang Tu from an old collection of the Ninnaji Temple Library in Kyoto, Japan. This rare piece, hailed as a masterpiece of text, illustration, and inscriptions, was sold for RMB1.035 million. As one of the earliest editions, this reprint provides a glimpse into the origin of various editions of the print, making it a valuable addition to any collector's library.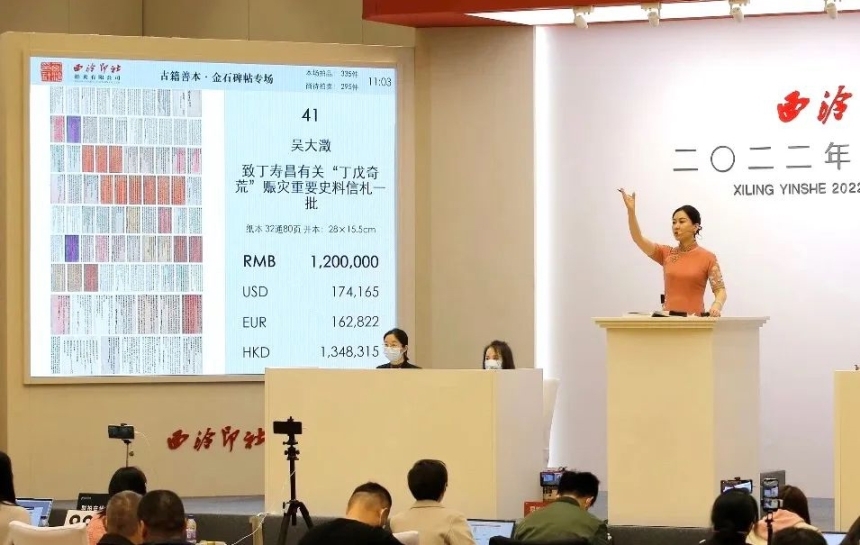 Wu Dacheng Important Letters to Ding Shouchang about 'Dingwu' Disaster Relief and Documents
Sale Price: RMB 1,380,000
During the auction, we had the privilege of witnessing a rare and historically significant collection of letters and documents that shed light on a critical period in China's history. Among them was an extensive collection of thirty-two letters from Wu Dacheng to Ding Shouchang, discussing the Dingwu disaster relief effort in Shanxi province. These letters provide a unique insight into the role of government officials such as Li Hongzhang during this time. The auction attracted intense interest from collectors, and after a fierce bidding war, the final sale price of this valuable historical document was RMB1.38 million.
Seal Cuttings by Modern and Contemporary Chinese Masters·Fine Inkstones and Inksticks
With a commitment to the century-old mission of the Xiling Society of Seal Arts, which aims to preserve ancient inscriptions, study seal carving, and pursue calligraphy and painting, Xiling Yinshe Auction presents the historical context of calligraphy, poetry, painting, and seal carving by literati in the exhibitions of Seal Cuttings by Modern and Contemporary Chinese Masters, as well as Fine Inkstones and Inksticks. By analyzing styles of schools, appreciating masterpieces, and studying historical materials, seal carving art is presented from multiple angles, enriching the academic value of seal culture.
This approach not only broadens the research direction of seal carving and enhances the academic value of seal culture but also helps guide collectors in accurately understanding the culture of ancient inscriptions, and continuously promotes the robust development of the seal carving and inkstone collecting market.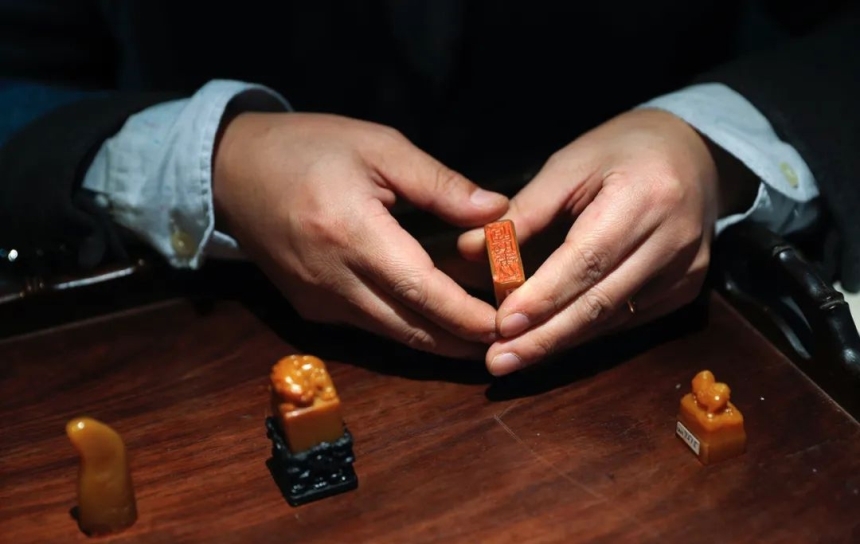 The autumn auction at Xiling Yinshe Auction featured two remarkable sessions dedicated to inkstones and seals: the Study Series∙Fine Inkstones and Inksticks, and the Study Series∙Seal Cuttings by Modern and Contemporary Chinese Masters. As an enduring and much-loved category, the inkstone and seal session was a standout success, with a turnover rate of nearly 90 percent.
During the sale of Study Series∙Seal Cuttings by Modern and Contemporary Chinese Masters, a group of works featuring complete border inscriptions and exceptional impression style received an enthusiastic response from collectors. Among the items offered by a single collector, one piece emerged as a surprise standout: Chen Hongshou's '尊中酒不空' seal, carved on Qingtian stone and used by Chen Zhenlu. This seal's unique charm was further emphasized by its elegant carving and its border inscription, which meticulously documents the carving process. Moreover, Chen Hongshou, a master of the Zhe School of seal carving, also provided an interpretation. After several rounds of intense bidding, the seal was eventually sold for an impressive RMB 1.09 million.

We have also witnessed a remarkable bidding war for the Tianhuang stone seal '人生如寄' by Huang Shiling. This masterpiece, created in the unique style of the 'Yishan School' of seal carving, boasts a delicately carved design, remarkable character structure, and technique, and a profound philosophical message. Its impressive impression content struck a chord with collectors, resulting in an intense bidding battle that ended with the seal fetching a staggering RMB 1.84 million.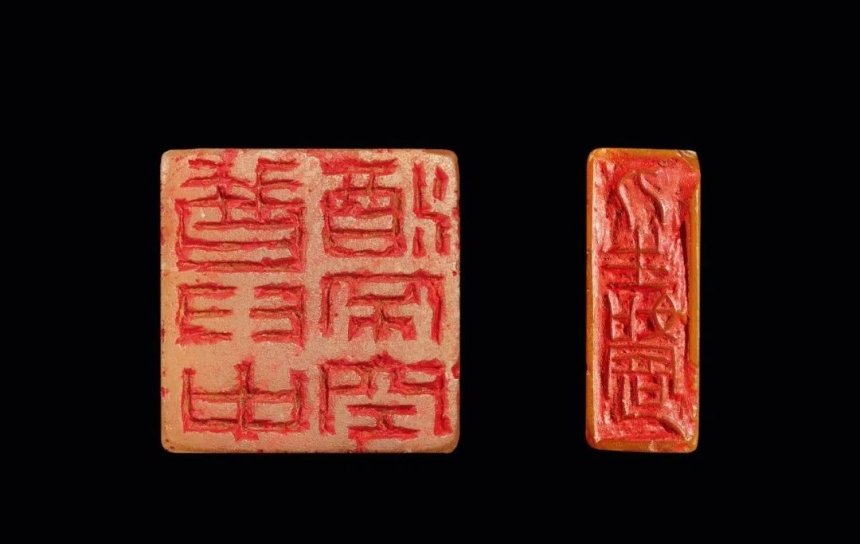 Qing Dynasty A Lightly Carved Tianhuang Stone Seal with Landscape Pattern by Huang Shiling
Sale Price: RMB 1,840,000
Qing Dynasty A Qingtian Stone Seal Engraved by Chen Hongshou for Chen Zhenlu's Private Use
Sale Price: RMB 1,092,500
We are also presented with a rare opportunity to witness the heartfelt friendship between two literati through engraved Shoushan stone seals. Wu Changshuo carved a pair of seals for his friend Hu Qin, imbuing them with their shared appreciation of art and unpretentious camaraderie. Wu's carving technique and artistic vision shine through in these seals, which exude a profound meaning and emotional depth. Ultimately, they were sold for RMB 1.495 million.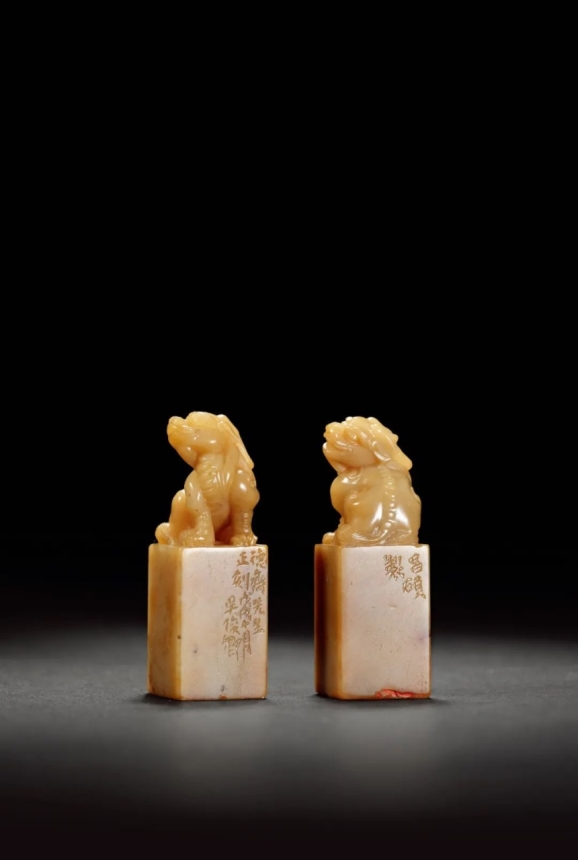 Qing Dynasty A Pair of Shoushan Stone 'Beast' Seals Engraved by Wu Changshuo for Hu Qin's Private Use
Sale Price: RMB 1,495,000
Among the impressive lots offered were items that belonged to the four founders of the Xiling Society of Seal Arts, all of which sold successfully. One particular highlight was Wu Yin's Qingtian stone seals, which were both extremely rare and highly coveted by collectors. These seals provided a comprehensive account of the Society's establishment, the name of the Qianquan in Gushan by the Westlake in Hangzhou, and the personal name origins, all captured on a small seal. Given that this year marks the 120th anniversary of the Xiling Society of Seal Arts, this seal is considered an especially precious item. It was eventually sold for RMB 632,500, drawing intense interest from bidders.
A Pair of Qingtian Stone Seals Engraved by Wu Yin
Sale Price: RMB 632,500
For many years, Xiling Yinshe Auction has been a leading authority in the field of fine ink stones from different dynasties. The auction featured exquisite works engraved by renowned literati such as Ji Xiaolan, Liuzhou, Gao Qi, Gong Dingzi, Ren Bonian, Wu Shengnian, and others. Among the lots, the highly anticipated Jiaqing Emperor's imperial inkstone inscribed by Ji Xiaolan has been drawing attention for some time. This ink stone was awarded by the emperor during his visit to the Hanlin Academy to attend a banquet, and serves as direct evidence of a high-profile event in the cultural realm of the Qing Dynasty. The inkstone case bears inscriptions of two poems from the Hanlin Academy banquet, which can be found in ancient books like Ji Wendagong's Collection and Xu Xiu Si Ku Quan Shu. Ji Xiaolan's collected works will be published in the future, with frequent mention and enumeration of this precious inkstone.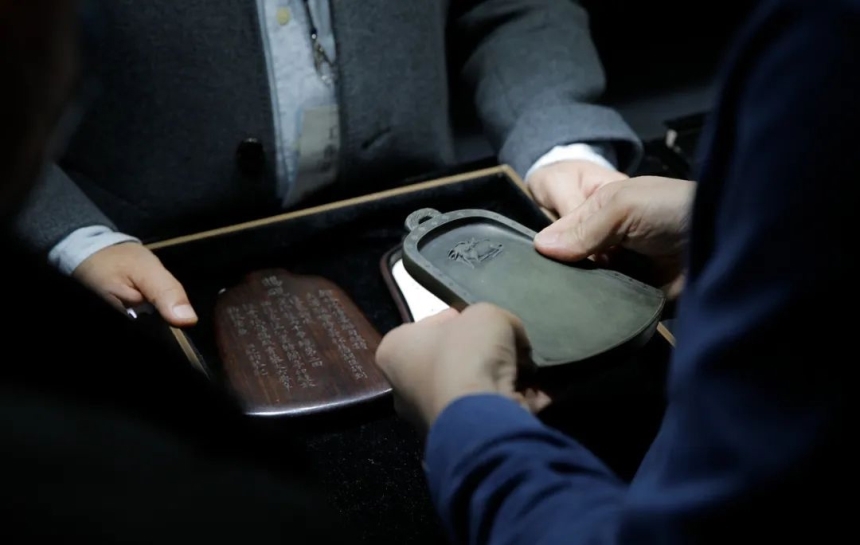 Qing Dynasty A Bell-Form Green Taohe Inkstone Inscribed by Ji Xiaolan
Sale Price: RMB 4,140,500
Ji Xiaolan was a prominent figure in inkstone collection among literati in the Qing dynasty, and his collection represented the highest level of achievement in this field. Being a high-ranking official, he had the privilege of directly receiving exquisite inkstones from the imperial court as rewards. This was something that many other inkstone collectors were unable to accomplish. After Ji Xiaolan, the inkstone was subsequently collected by Ishihara Saikaku, Lin Lang'an, and the Hosokawa clan, and it can be found in many specialized books on inkstones. The convincing provenance lineage of this inkstone enhances its cultural legacy as a collection.
Study Series∙Refined Articles in the Study
The auction of study series was divided into four specialized categories: Everlasting Glory∙Refined Articles in the Study, Be Light-Hearted∙Refined Articles in the Study, Study Series∙Refined Articles in the Study, and Autumn Chirpings∙Imperial Cricket Accessories Collected by Gong Xinzhao, Gao Zhenxiao and Gao Shixiong. These auctions showcased a collection of exquisite and rare treasures. Following two intense days of bidding on March 16th and 17th, many sessions achieved high turnover rates. Everlasting Glory∙Refined Articles in the Study and Be Light-Hearted∙Refined Articles in the Study both had a turnover rate over 90 percent.
Prior to the auction, the tasteful arrangement of the literary exhibition during the preview garnered significant market favor. Attendees indulged in an immersive sensory experience, ranging from classical instruments like the Guqin to the sounds of chirping crickets and birds, the admiration of stones and trinkets. The venue was bustling with collectors eager to appreciate the flowing rhythm of the exhibits and the cheerful chirping of insects and birds. Tianjin media and collectors made a special effort to attend, bringing together collectors from both the North and South for this grand occasion.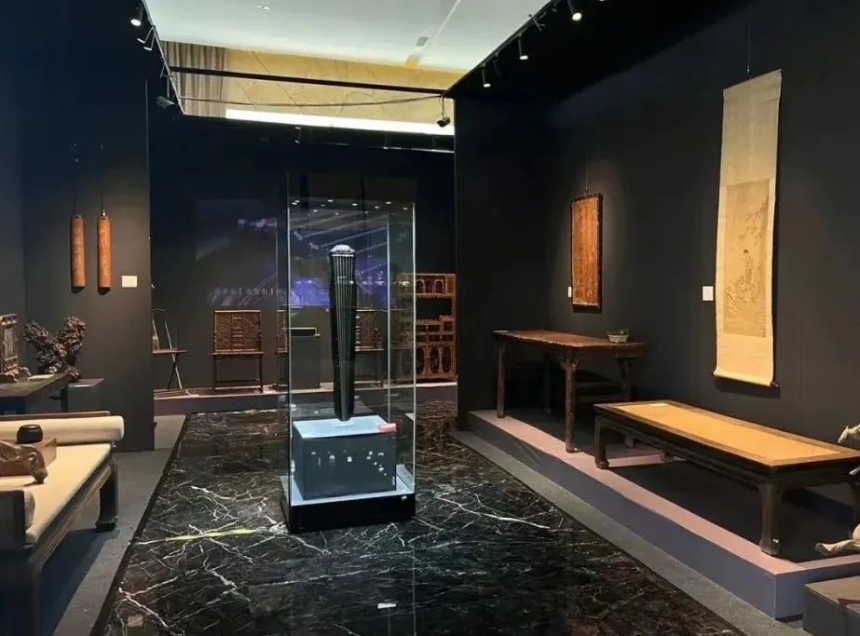 As classic sales, Everlasting Glory·Refined Articles in the Study and Study Series·Refined Articles in the Study continued their brilliant performance attributed to the celebrity collections with compelling provenances the market remains scrambling for. New records were made during the fierce biddings among the buyers, climaxing both the sales and the passion to the feast presented by Xiling Yinshe Auction.
Ming Dynasty A Guqin
Sale Price: RMB 2,806,000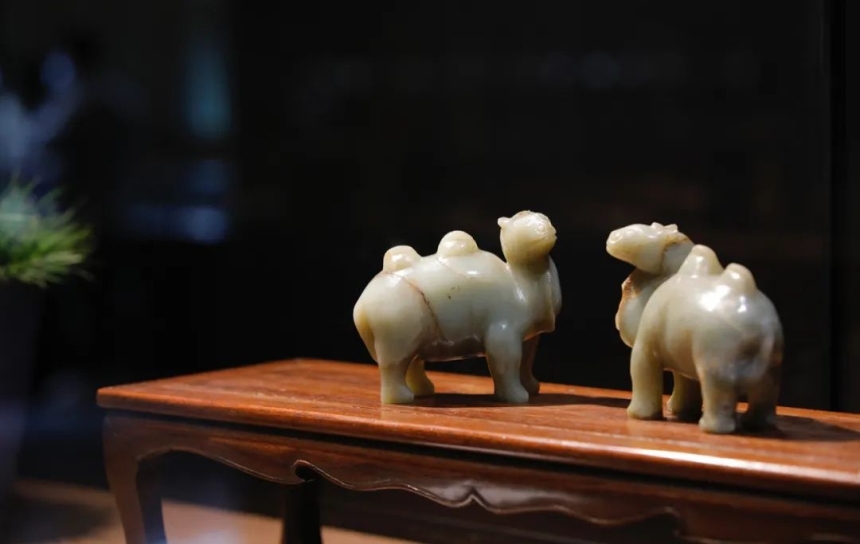 Ming Dynasty A Pair of Yellow Jade 'Camel' Carvings
Sale Price: RMB 3,220,000
The Be Light-Hearted · Refined Articles in the Study auction witnessed the sale of some exceptional items, among which were the Stella Lots, a Guqin and a pair of yellow jade 'camel' carvings crafted during the Ming dynasty. After a fervent competition, the former fetched RMB 2.806 million from its low estimate of RMB 1.8 million while the latter started at RMB 2.6 million and hit RMB 3.22 million at last.
Autumn Chirpings·Imperial Cricket Accessories Collected by Gong Xinzhao, Gao Zhenxiao and Gao Shixiong
Total sale: RMB 6 million
Sales rate: 100%
The debut of Autumn Chirpings·Imperial Cricket Accessories Collected by Gong Xinzhao, Gao Zhenxiao and Gao Shixiong, featuring its rich and refined collections of remarkable scholars and the projection of the characteristics in different parts of China, attracted many cricket breeding enthusiasts from all over the country. The buyers and enthusiasts placed their bids eagerly on site, as well as through internet and telephone, creating an electrifying atmosphere that was unparalleled by other auctions.
Xuande Period, Ming Dynasty A Chengni Clay Cricket Jar with Immortal Pattern in Relief and 'Xuande' Mark
Starting Price: RMB 10,000
Sale Price: RMB 575,000
In this sale, many lots experienced unrelenting rocketed biddings, resulting to high premiums. Notably, the Chengni clay cricket jar with 'Xuande' mark and four cricket jars, which began with an opening bid of RMB 10,000, ultimately sold for a staggering RMB 552,000. The strong interest and enthusiasm from the buyers and collectors made it the second white-glove sale, fully evidencing the growing popularity, acceptance of the genres and the trading-based collections.
Scholar's Ceramics·Chinese Ceramics
The ceramics was divided into three parts and all reached record-breaking sales rates. The exquisite pieces on display evoked a sense of tranquility and refinement, akin to sipping tea while cruising on a boat on a clear day. Totally more than 340 lots were sold for RMB 70 million, indicating the thriving state of the art market.
Two sales of A Scholarly Journey in Jiangnan series have been accepted for Xiling Yishe Auction's emphasis of scholarliness in Jiangnan area in particular. Since its first kick-off at the Xiling Yinshe 2022 Spring Auction, the concept of the series was not only attributed to a far-reaching collecting trend, but also preferred to be an exploration of the ancient scholar's attitude towards life and spiritual pursuit through academic sorting of the similar wares.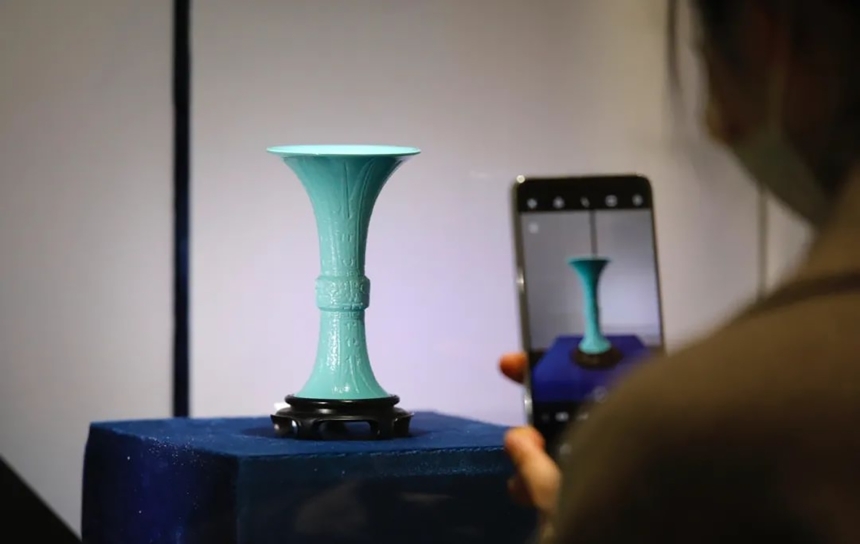 Qianlong Period, Qing Dynasty A Turquoise-glazed Flower Holder with Dragon pattern in Relief and 'Qianlong' Mark
Sale Price: RMB 1,840,000
The latest addition to the series, A Scholarly Journey in Jiangnan: Scholar's Ceramics, attracted significant interest from enthusiastic buyers for its comprehensive display of totems representing the scholarly spirit, including rare archaistic creations by Tang Ying. Those scholarly masterpieces, especially the turquoise-glazed flower holder with dragon pattern in relief and 'Qianlong' Mark from the Qianlong period of Qing dynasty, stands out as a paradigm of Tang's invention of monochrome-glazed bronze-ware-form works. And this piece is a perfect proof to the practice, and worthwhile of its price as the second highest in this sale.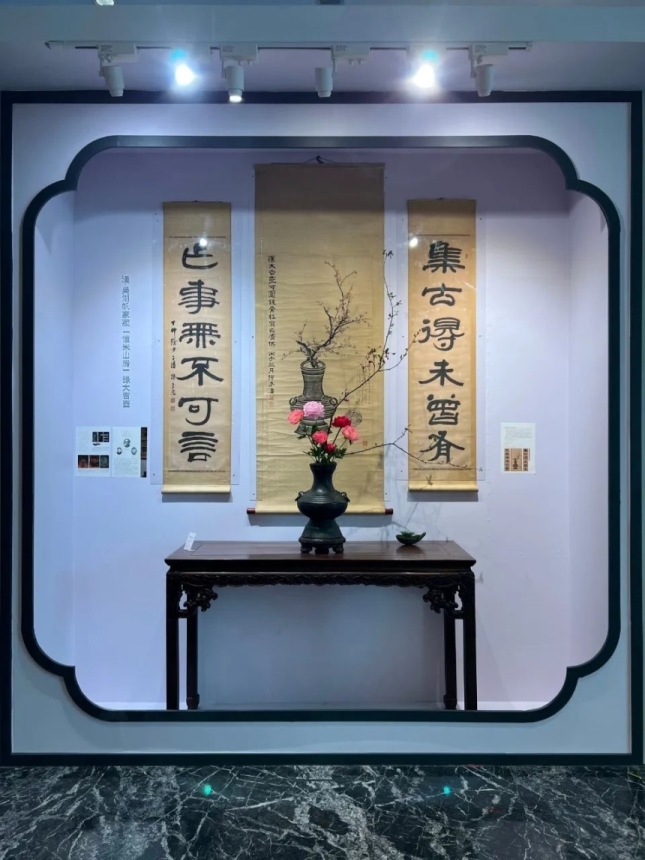 Han Dynasty A Fine Pot Collected by Cao Qiufang and Rubbings and Six-character Couple by Chen Ziqing
Starting Price: RMB 800,000
Sale Price: RMB 1,667,500
Another focus of the series was Xiling Yinshe's First Sale of Accessories for Tea, Incense and Flower Arrangement, which annotated the elegance of traditional Chinese aesthetics and the ways in which ancient scholars found leisure in their daily lives. For a long time, we have been engaged in revealing the vicissitudes of the wares, and we are committed to continuing to offer such distinctive sales that highlight the unique Jiangnan cultural background and reveal the fascinating stories behind each piece.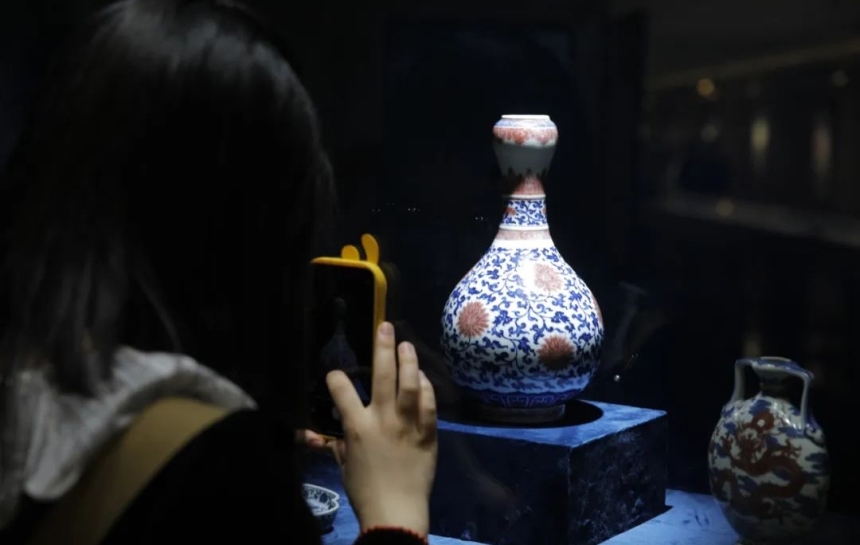 Qianlong Period, Qing Dynasty A Blue-and-White Underglaze-Red Garlic-Mouth Vase with Lotus Pattern and 'Qianlong' Mark
Starting Price: RMB 1,800,000
Sale Price: RMB 2,817,500
The auctions and art market have favored the imperial blue-and-white and underglaze-red wares for a long time, echoed by soaring sale prices because of their extreme delicacy and rareness. One exemplary piece is a blue-and-white underglaze-red garlic-mouth vase, which became a sensation at auction and was ultimately sold for an exciting RMB 2,817,500 after multiple rounds of intense bidding.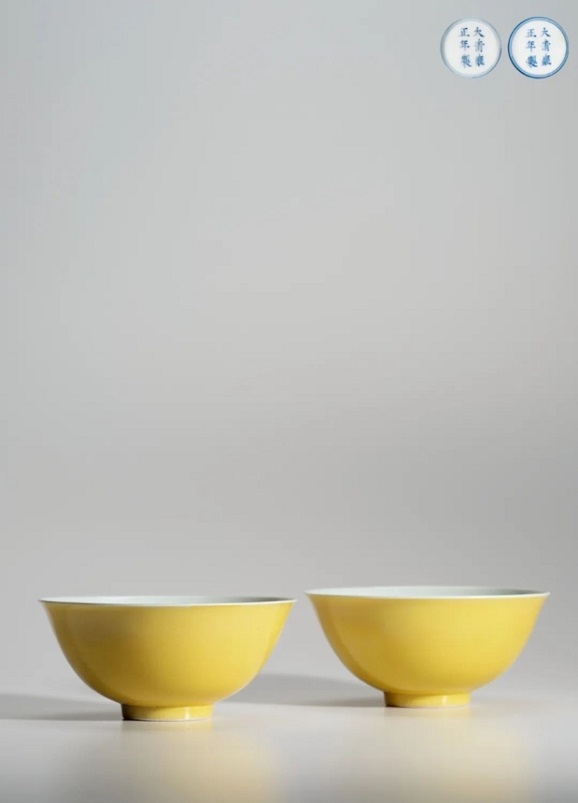 Yongzheng Period, Qing Dynasty A Pair of Yellow-Glazed Bowls with 'Yongzheng' Mark
Starting Price: RMB 800,000
Sale Price: RMB 1,380,000
Despite beginning late at night, the sale of Chinese Zisha Wares, Tea Sets, and Fine Tea, which was noted for its scholarly and academic focus, remained popular, with an impressive 90 percent of lots sold. Among the standout items were two exceptional pieces - a purple clay teapot engraved by Qu Ziye, previously owned by Tang Yun and sold for RMB 4.14 million, and a purple clay cup crafted by Chen Mingyuan, once collected by Pang Yuanji and sold for RMB 3.45 million.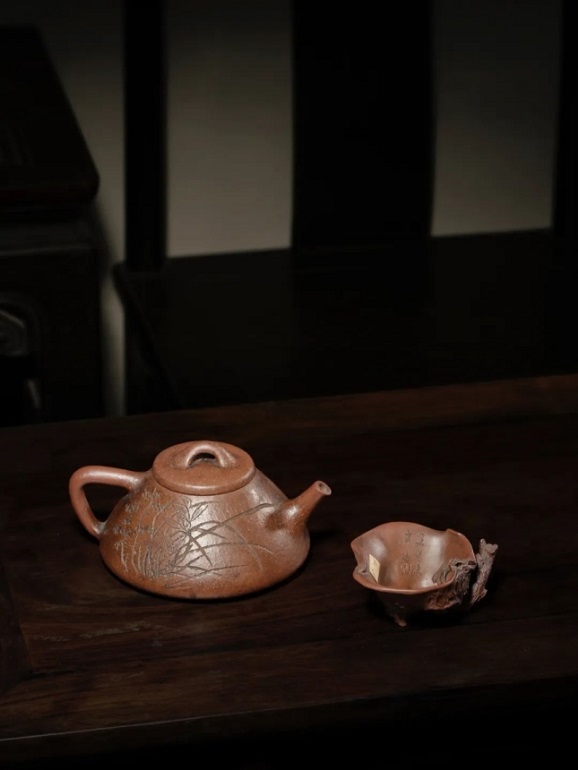 Daoguang Period, Qing Dynasty A Purple Clay Teapot Engraved by Qu Ziye and Collected by Tang Yun (Left)
Sale Price: RMB 4,140,000
Eearly Qing Dynasty A Purple Clay Cup Made by Chen Mingyuan and Collected by Pang Yuanji (Right)
Sale Price: RMB 3,450,000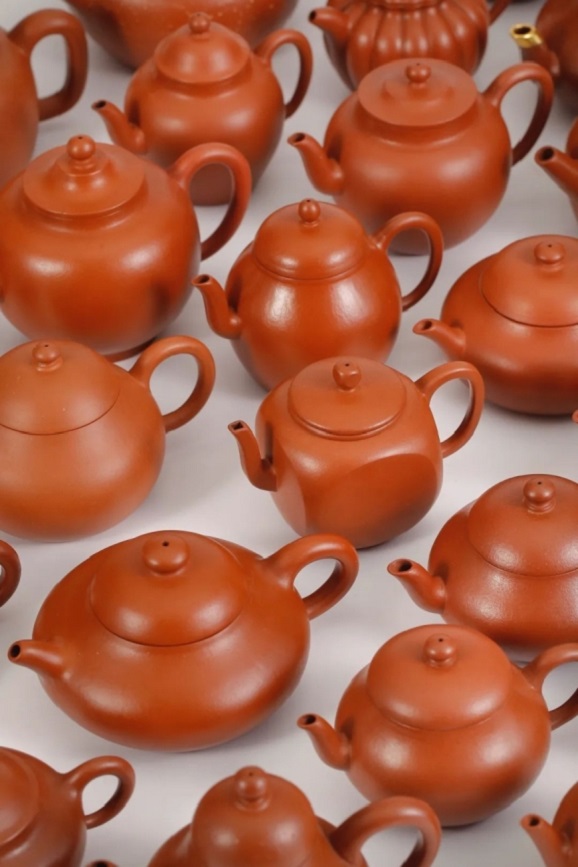 Zisha·Redware Series
This Zisha sale was particularly noteworthy for its impressive redwares which were mostly sold for high premium prices. Xiling Yinshe Auction will continue to provide scholar's zisha wares and elegant redwares. We welcome anyone interested in consigning similar collections.
Buddhist Art
The Elegant and Magnificent·Chinese Buddhist Art featured approximately 120 lots, ranging from delicate statues to beautiful Thangka art and charming bronze vessels. The sale was a resounding success, with a final transaction value of nearly RMB 26.2 million and an impressive sales rate of 88.7 percent.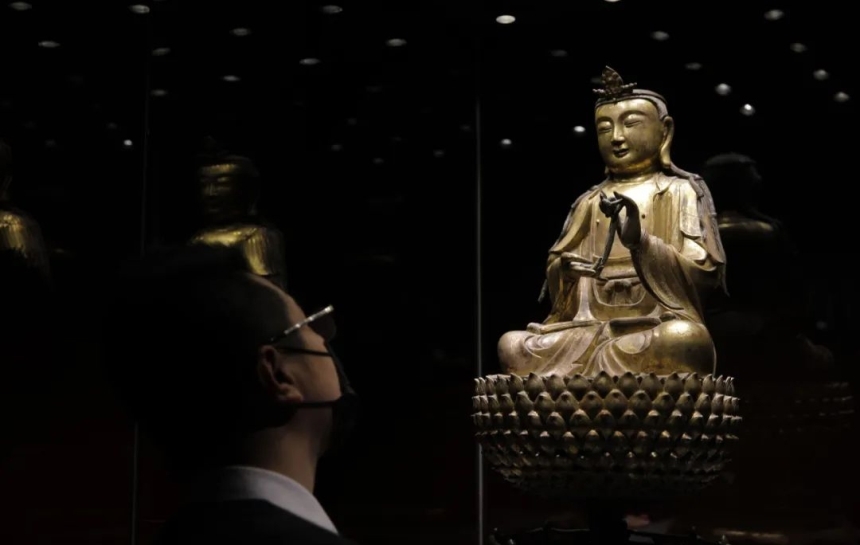 Ming Dynasty A Gilt-Bronze Figure of Avalokitesvara
Sales Price: RMB 1,725,000
The exquisite gilt-bronze Avalokitesvara statue was a true masterpiece of the Ming dynasty craftmanship, seamlessly blending the spirit of Zen and the wisdom of the buddha. Its exceptional beauty and rarity drew intense bidding and resulted in a final sale price of RMB 1.725 million. The bronze Avalokitesvara statue from the Song/Yuan dynasty was of another artistic style, portraying the buddha seated amid rolling hills, deep in contemplation as he gazed upon the moon's reflection in the sea. The lot was sold for RMB 1.495 million. The impressive hammer prices for these two exquisite artworks bore witness to the enduring appeal and intrinsic value of Buddhist art.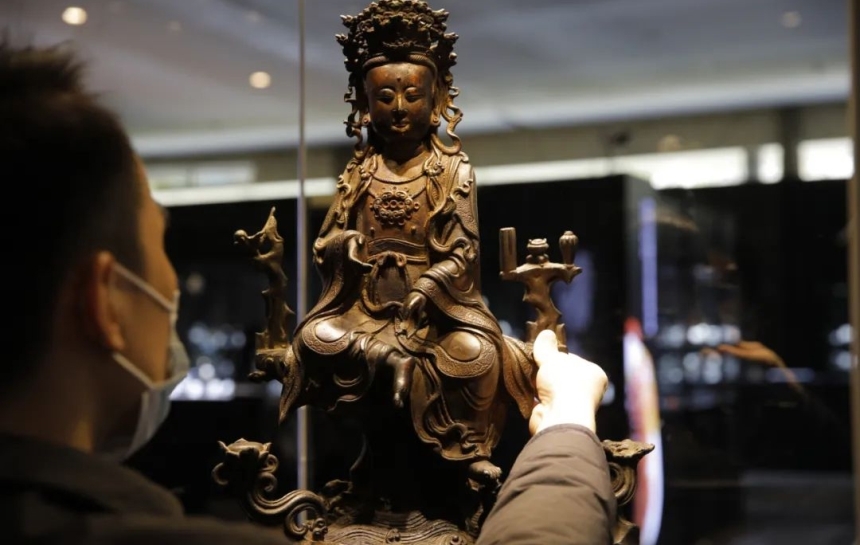 Song / Yuan Dynasty A Bronze Figure of Avalokitesvara
Sale Price: RMB 1,495,000
An anonymous Thangka work was sold for RMB 207,000 while a pair of rare imperial style bronze 'lion' ornaments were sold for RMB 575,000, commanding a substantial premium. These exceptional items, which diverged from our typical consignments, have opened up new possibilities for our auctions and encouraged us to explore similar opportunities in future sales.
Coins and Paper Money
Despite the market's fluctuations and adjustments, Xiling Yinshe Auction has consistently maintained confidence in the growth of the coin and paper money collection market by advocating for high-end collections while satisfying low-end market with genuine pieces to boost the industry. At the Xiling Yinshe 2022 Autumn Auction, the Chinese Coins and Paper Money sale offered around 350 lots in a full spectrum and added more vitality to the market.
Qing Dynasty An Entertaining Coin Collected by Tang Shifu
Sale Price: RMB 3,105,000
Qing Dynasty An Entertaining Coin with 'Guangxu' Mark Collected by Tang Shifu
Sale Price: RMB 2,587,500
The highlights were two rare entertaining coins collected by Tang Shifu. Both coins, hammered for RMB 3.105 million and 2.5875 million respectively, evidenced the great appetite of collectors for ultimate pieces.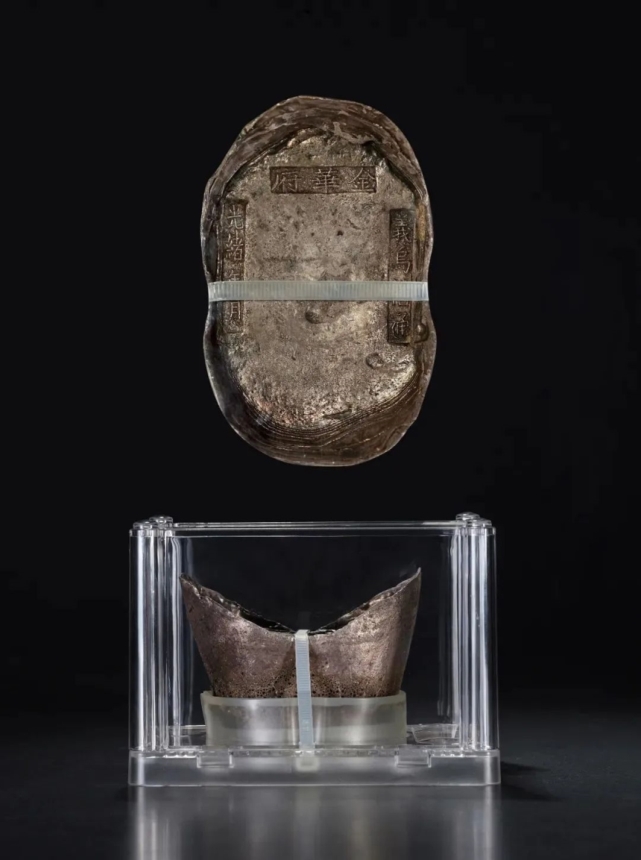 Qing Dynasty A Fifty-Tael Silver Sycee from Zhejiang
Sale Price: RMB 2,587,500
One of the most remarkable moments of the auction was the debut of a fifty-tael silver sycee from Yiwu of Jinhua, Zhejiang province, which sold for an impressive RMB 2.5875 million. This rare sycee, crafted during the Qing dynasty, is the only known extant piece of its kind and had never auctioned before. Its top-notch craftsmanship and unique status made it a highly sought-after piece among collectors.
Modern and Contemporary Oil Paintings·Prints
Over the years, the Modern and Contemporary Oil Paintings & Sculpture section has been dedicated to presenting a diverse range of special themes, each of which highlights the unique contributions of Chinese modern art pioneers. Themes such as 'National Academy of Art,' 'Pioneers Residing in France and Japan,' 'Shanghai Art School,' and 'Guan Liang Collection' offered a comprehensive look at the evolution of Chinese modern art and its place in the broader context of art history. As such, the impact of the works by Lin Fengmian, Liu Haisu, Wu Guanzhong, Zao Wou-ki and Chu Teh-Chun remained strong in the market.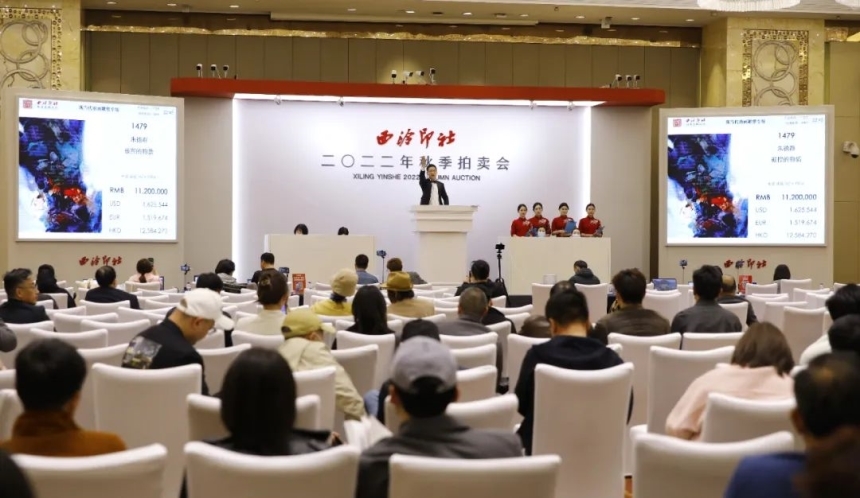 The Chinese modern and contemporary art provided a diverse array of works, from the leading lot, Zhou Chunya's early 'Peach Series', to excellent works of the 'New Painting' section painted by young and middle-aged artists, to enrich the collections. The 'Contemporary Boundaryless' section unveiled the results of ink-art-based multi-media practices, which are not limited to a single medium or painting style, but more elements and changes with infinite possibilities.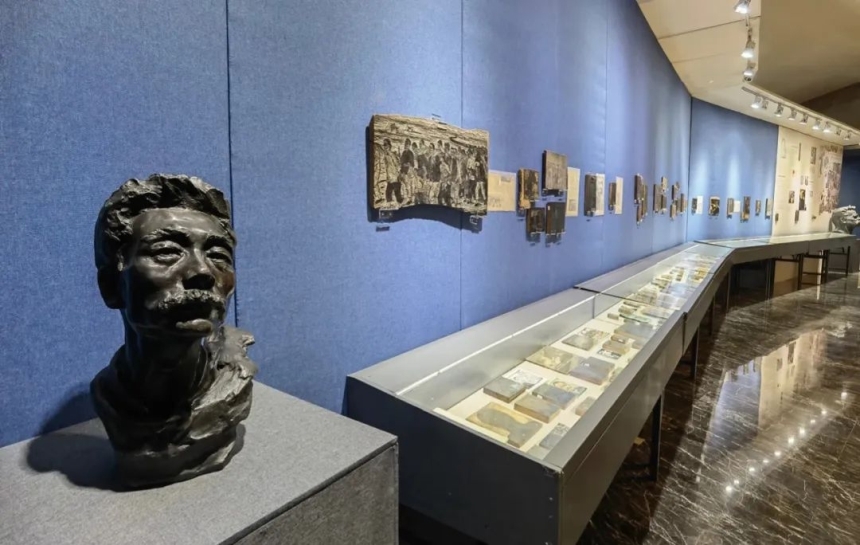 The Commemorative Print Sale Co-curated by Modern and Contemporary Oil Painting & Sculpture Department and Important Letters and Manuscripts Department
The Modern and Contemporary Oil Painting & Sculpture Department and Important Letters and Manuscripts Department co-curated a special sale - Following Lu Xun and China's New Woodcut Movement: Rong Ge Memorial Sale for His Woodcut Career. The sale invited warm applause from both academic and collection circles, and proved to be a significant inspiration for cross-category auctions. The event featured an impressive collection of over 180 prints, accompanied by drafts, manuscripts, letters, and books. Additionally, the original works that were showcased in the 1946 printmaking exhibition to commemorate the eight-year war of resistance against Japan were also included.
Comics, Illustrations and Cartoons by Chinese Masters
A collection of works by Zeng Mi all found their new owners with the total sale price reaching nearly RMB 5 million. Zeng is a skilled artist who excels at combining the western expressionism with the traditional Chinese scholarly painting style. He achieved this by using both ink techniques and blocks of western-style tones, and one of his opinions remained convincing nowadays, 'the artists could hardly improve their skills unless they shift their attentions to the structure'.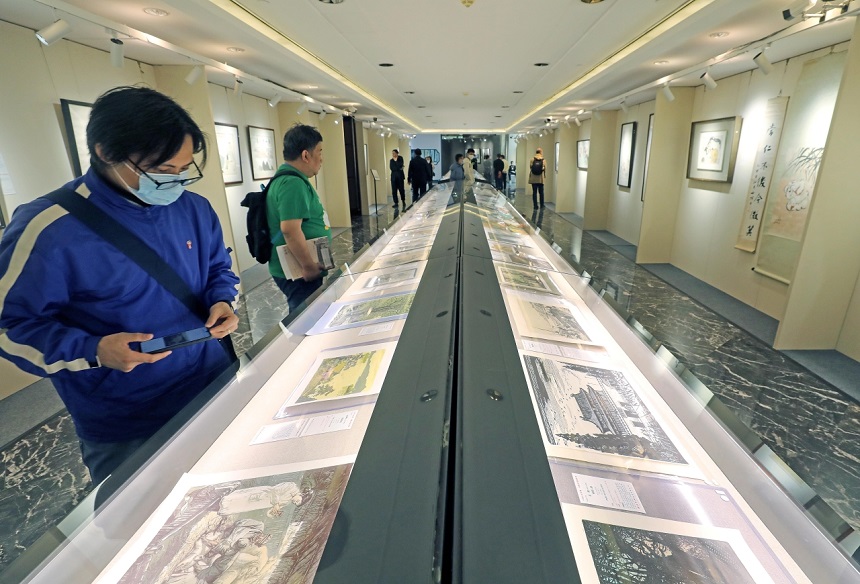 Another talented artist from Zhejiang, Quan Shanshi, also made a significant impact at the auction. His painting, Morning Glory of Mount Huang, was sold for over RMB 1.2 million. The auction were also characterized as the works by masters like Feng Zikai and Lin Fengmian, rare comic drafts, as well as impressive ink painting, which all achieved remarkable results.
Jade Arts
The Jade Carvings by Ancient and Contemporary Chinese Masters sale was divided into two sections: ancient jade carvings and contemporary jade carvings. Both sections were incredibly successful and popular among buyers, resulting in a total sale price of RMB 37 million, with a sales rate of 88 percent.
The ancient jade art section saw several Qing imperial jade carvings fetch high prices. Notably, a white jade censer with a 'Chi' pattern from the Qianlong period of the Qing dynasty was sold for RMB 805,000. The censer has patterns similar to those on the Zhou dynasty bronze wares, but integrated with Qing's own design, indicating Emperor Qianlong's special and extraordinary taste.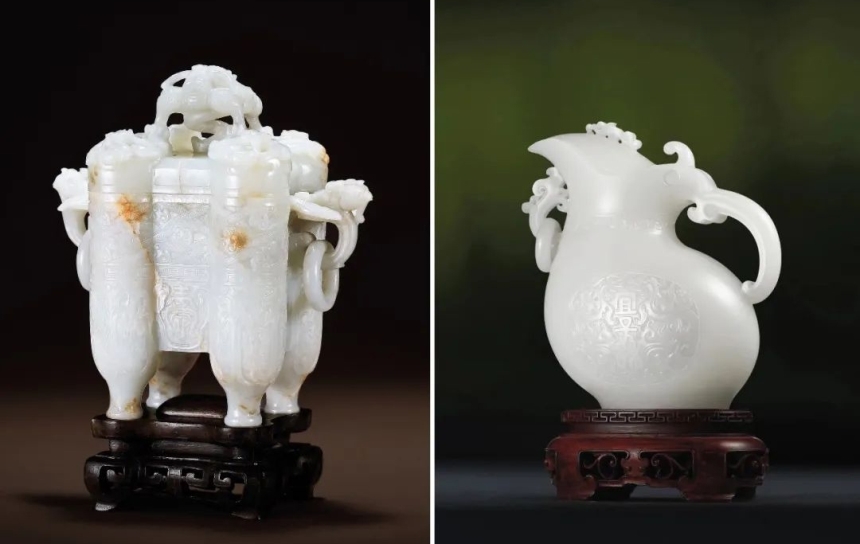 Qianlong Period, Qing Dynasty A White Jade Censer with 'Chi' Pattern (Left)
Sale Price: RMB 805,000
Yang Guang (b. 1970) A White Jade Ewer (Right)
Sale Price: RMB 4,427,500
The leading piece in contemporary jade art is a white jade ewer that was created by the master jade carver, Yang Guang. It was sold for an impressive RMB 4,427,500 at auction and boasted its similar effects to those of ancient jade artworks. The piece is made of Hetian seed jade and crafted in form of an ancient bronze ware.
Such a stunning imperial-style ewer is just one of the many examples of art that embodies our national spirit and virtues in the new era. Its elegance and magnificence speak to the timeless beauty of jade craftsmanship and its continued relevance in modern art.
Aesthetics of Life
From Chinese vintage to classical tobacco pipes and from jewelry to western antiques, Xiling Yinshe Auction was pleasant to see the lots which represent aesthetics of life triumph. Integrating traditional Chinese culture with contemporary aesthetics, and imbuing our daily life with art are defining a new revolution in the current collection world.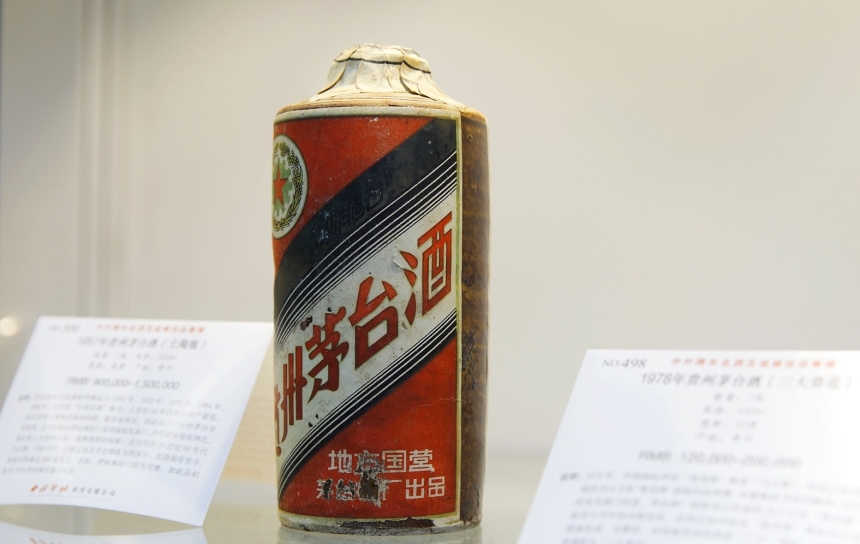 Famous Chinese and Foreign Wine and Tonics
Kweichow Moutai Made in 1957 (Ceramic Bottle)
Sale Price: RMB 1,173,000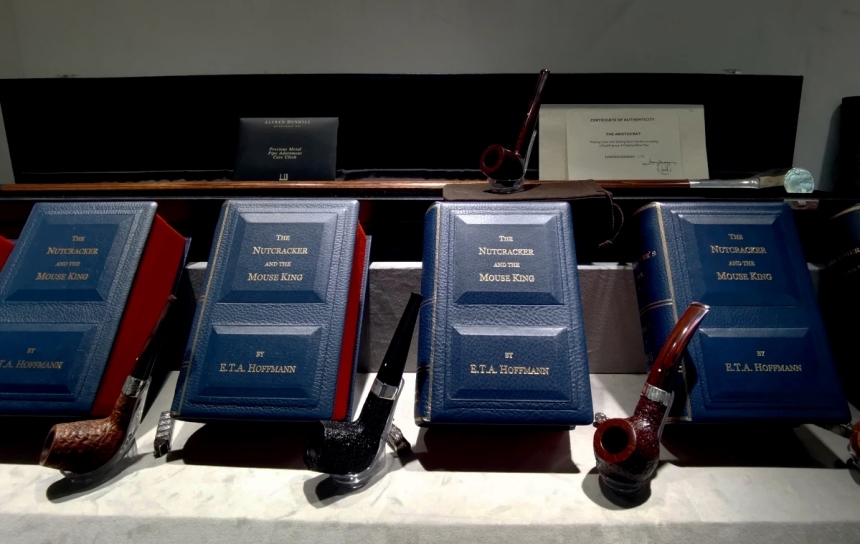 Xiling Yinshe's First Sale of Tobacco Pipes
Dunhill Chestnut Briar Group 4 Billiard Pipe #4103 and a Silver Cane
Sale Price: RMB 322,000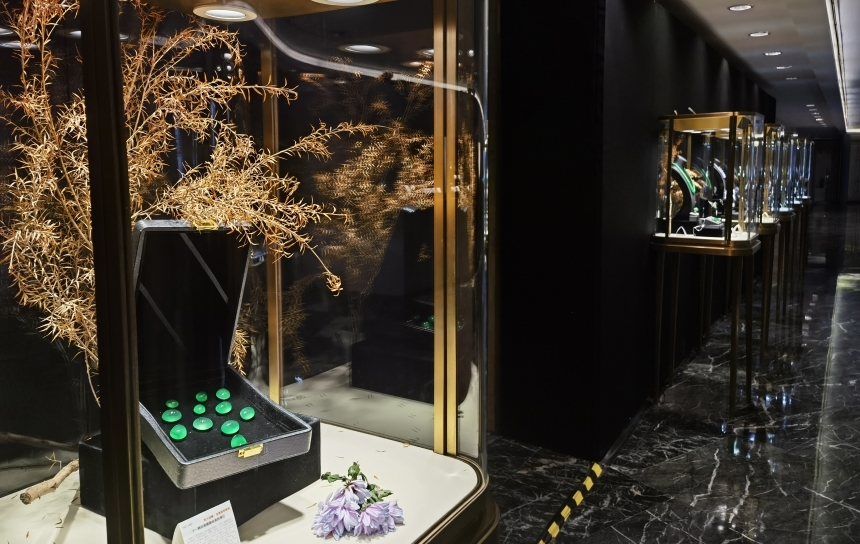 Oriental Beauty·Magnificent Jewels
Eleven Icy Jadeite Cabochons
Sale Price: RMB 28,750,000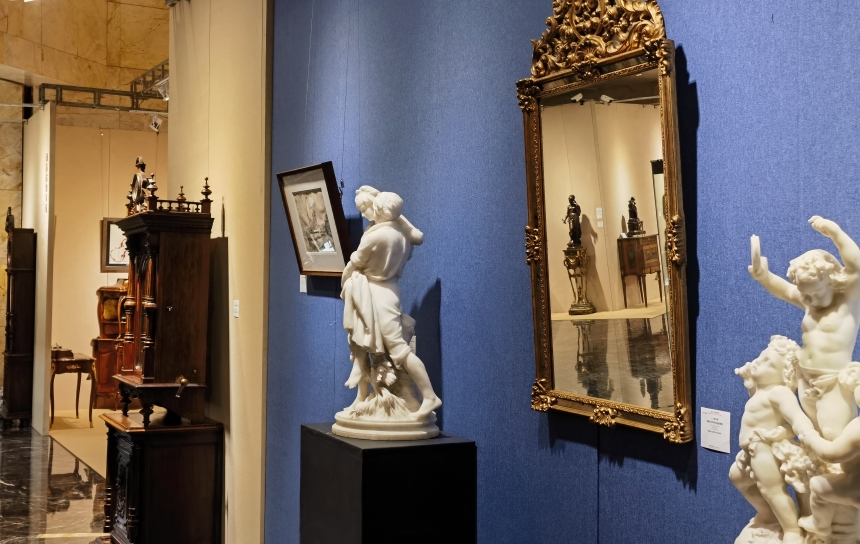 Wester Antique Works of Art
Sales Rate: about 90%