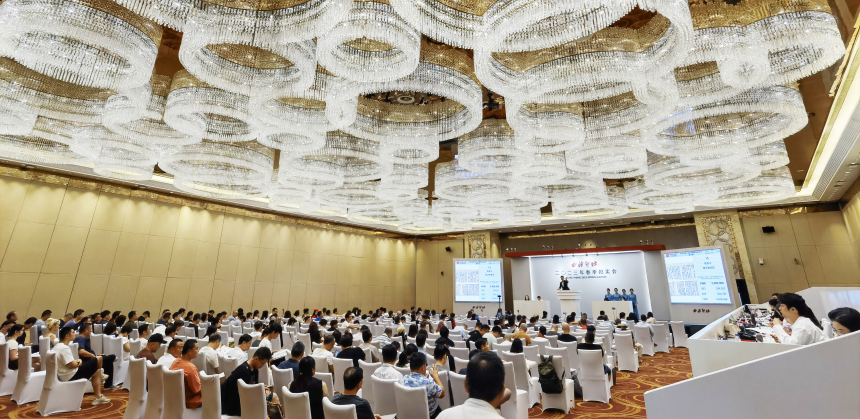 August 7, 2023 is a cheerful day for the wonderful closure of Xiling Yishe 2023 Spring Auction, which reached remarkable total revenue up to RMB 908 million and eighty-four percent transaction rate.
Like the vigorous spring, the auction again leashed the great vitality and potential of the Chinese art market by its superiority in curation, popularity gaining and creation of extra values beyond the auctions.
Sincere gratitude to the collectors and media friends!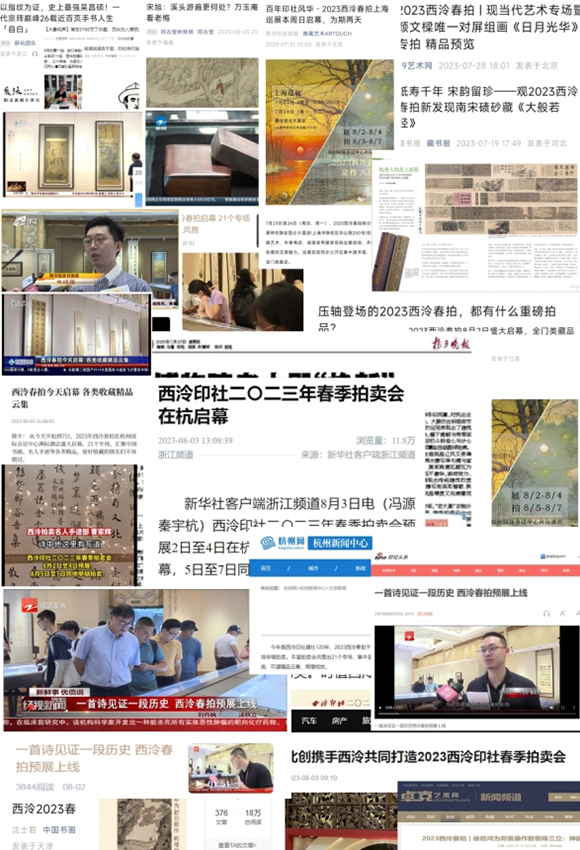 Media reports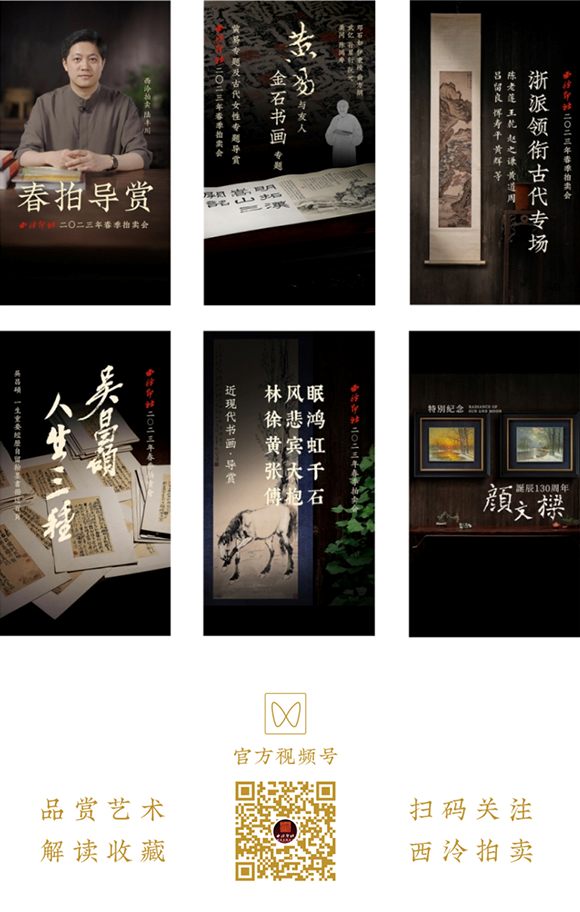 Chinese Paintings and Calligraphy·Letters from Ming and Qing Dynasties
RMB 336 million is an extraordinary accomplishment for the painting and calligraphy section, signifying a positive response from collectors to our academy-oriented auction concept. Such trust and recognition are tacit just as those collectors affirmed Huang Yi's attainments achieved in the study of stele inscriptions between Qianlong and Jiaqing periods two hundred years ago. A thought-provoking echo to the similar public appeal to the sages, gentries and scholars of the past.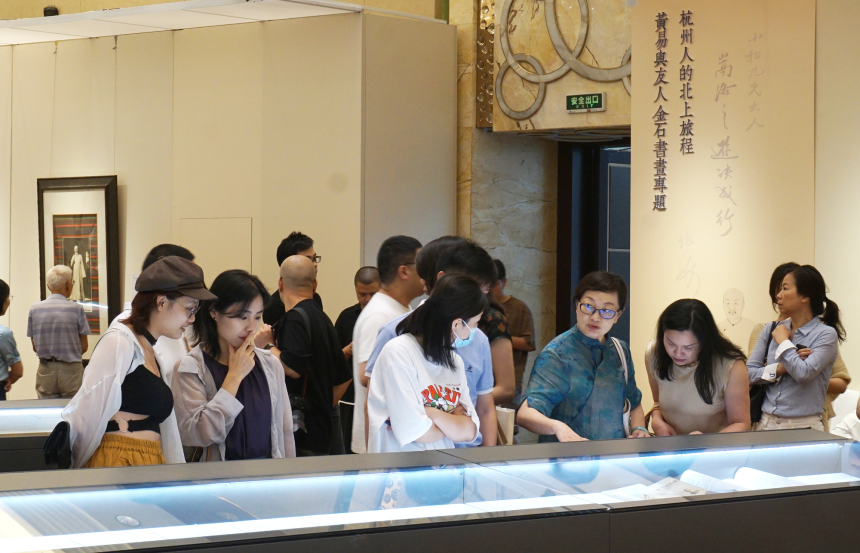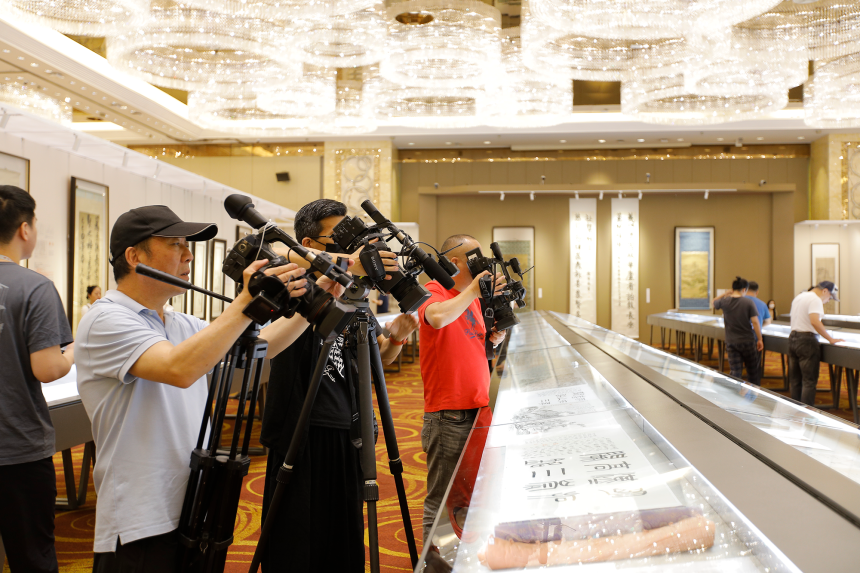 Leading lot Huang Yi Collection of Rubbings of the Temples on the Mount Song, Paintings Inscribed by Huang Binhong, Luo Zhenyu, et al.
More complete than the counterpart collected by the Palace Museum
Starting Price: RMB 2,800,000
Sale Price: RMB 7,245,000
Along with successful opening of the academic and poetic Symposium on the Paintings, Calligraphy and Inscriptions by Huang Yi and His Friends, the sale creates noteworthy sales rates and premiums, confers more and more enlightenments for the market and immerses collectors in a brand-new atmosphere. The leading lot Huang Yi's Collection of Rubbings of the Temples on the Mount Song started its bidding at RMB 2.8 million and was sold for RMB 7.245 million. Another stella lot, Wang Pu's Painting Garden Inscribed by Yi Bingshou, Chen Hongshou, et al. also arrived at a deal of RMB 3.45 million, astonishingly ten times its low estimate.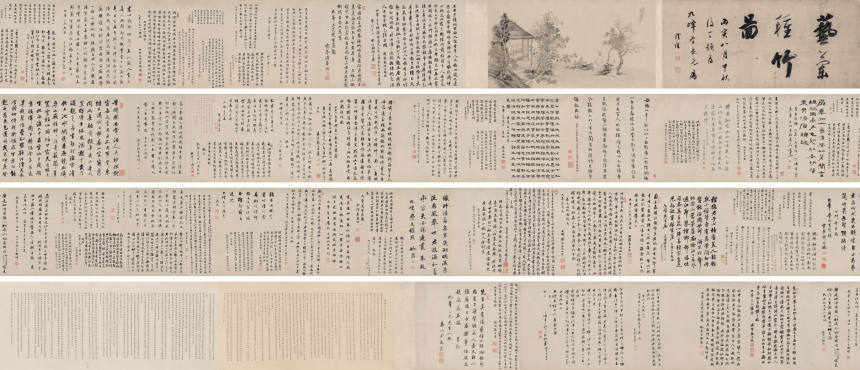 Wang Pu Garden Dedicated to Wang Zhizheng
inscribed by fifty-seven scholars between Qianlong and Jiaqing periods
including Yi Bingshou, Chen Hongshou, Liang Tongshu, Yao Nai, et al.
Starting Price: RMB 10,000
Sale Price: RMB 3,450,000
Xiling Yinshe Auction has been devoted to exploring and offering more information on the intercourse of ancient scholars, which is also redeemed by collectors through warm biddings. Lv Liuliang and Wu Zhizhen, two Zhejiang-based sages' rare letters, which were sold for RMB 3.45 million from its estimate of RMB 800,000, are just the implication of how ancient scholars' relationship would like to be and how it affected the grand history thereafter.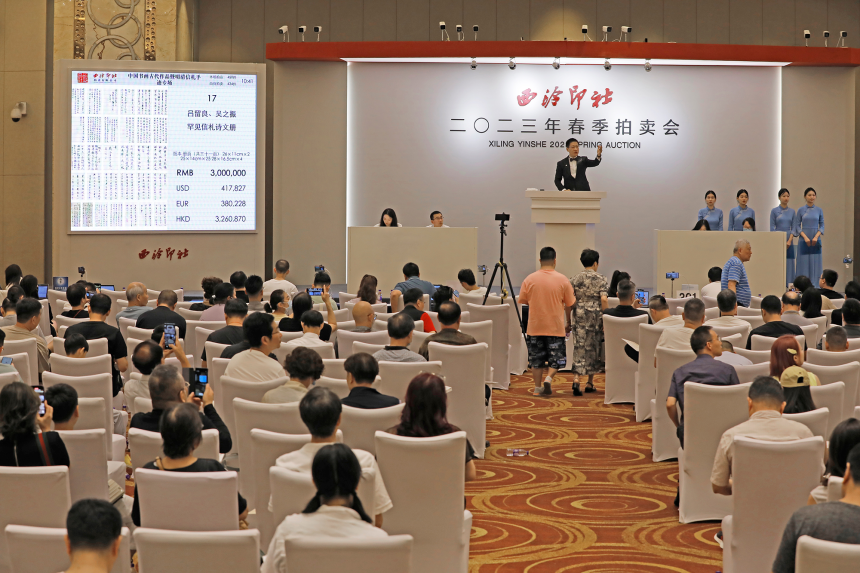 Lv Liuliang and Wu Zhizhen Rare Letters
Including the unique extant letter of Lv with his full inscription
An important legacy of the poets of Zhejiang school
Starting Price: RMB 80,000
Sale Price: RMB 3,450,000
In this spring auction, the calligraphy and letters were sold with high premiums, showing the collectors' admiration to the ancient poetic intercourses. For example, Tao Yuanming's Poems calligraphed by Wang Guxiang and inscribed by Wang Zhideng started at RMB 600,000 and fetched RMB 3,277,500. Yun Shouping's letter dedicated to Wang Hui started at RMB 300,000 and was concluded at RMB 2,760,000.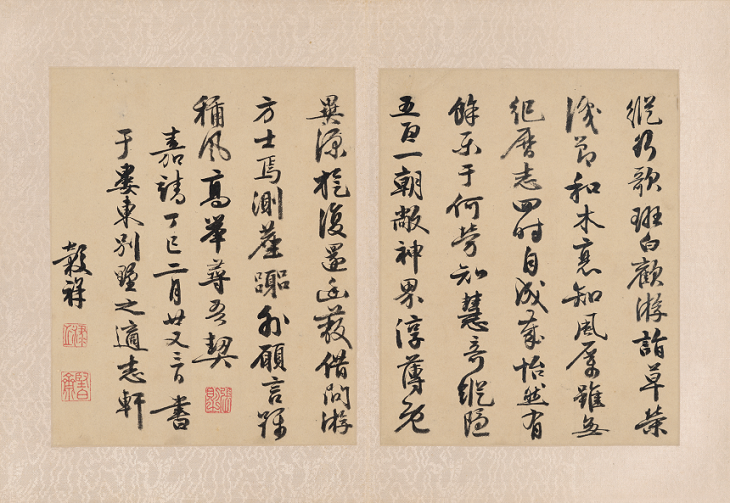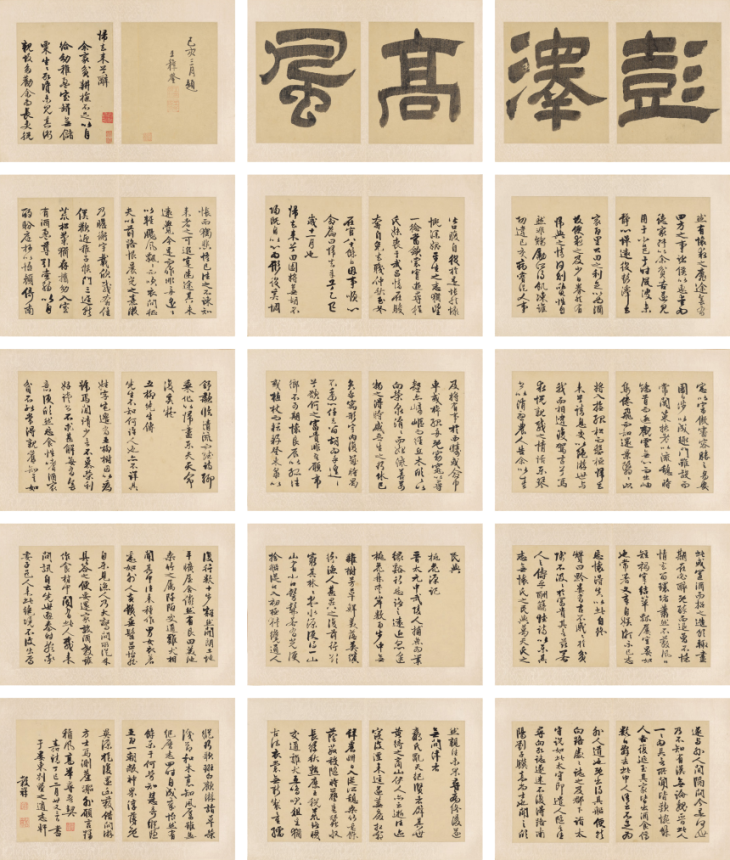 Tao Yuanming's Poems Calligraphed by Wang Guxiang and Inscribed by Wang Zhideng
The cooperation between two Wen Zhengming's disciples, similar to a counterpart in the Palace Museum
Starting Price: RMB 600,000
Sale Price: RMB 3,277,500
Yun Shouping Letter Dedicated to Wang Hui
Inscribed as 'Yun Ge' during the period of the warmest correspondence with Wang Hui
Starting Price: RMB 300,000
Sale Price: RMB 2,760,000
As a representative of Zhejiang School style works, Chen Hongshou's painting A Tall Pine Tree dedicated to Zhao Gongjian at Chen's 36 years captured the heart of collectors by its rare painting style. The artwork was estimated as RMB 3.5 million and closed at RMB 6.095 million. Wang Qian's Egrets and Magpie also fetched RMB 1.84 million from its estimate of RMB 1 million for its Lin Liang's painting style and object of typical Zhejiang landscape.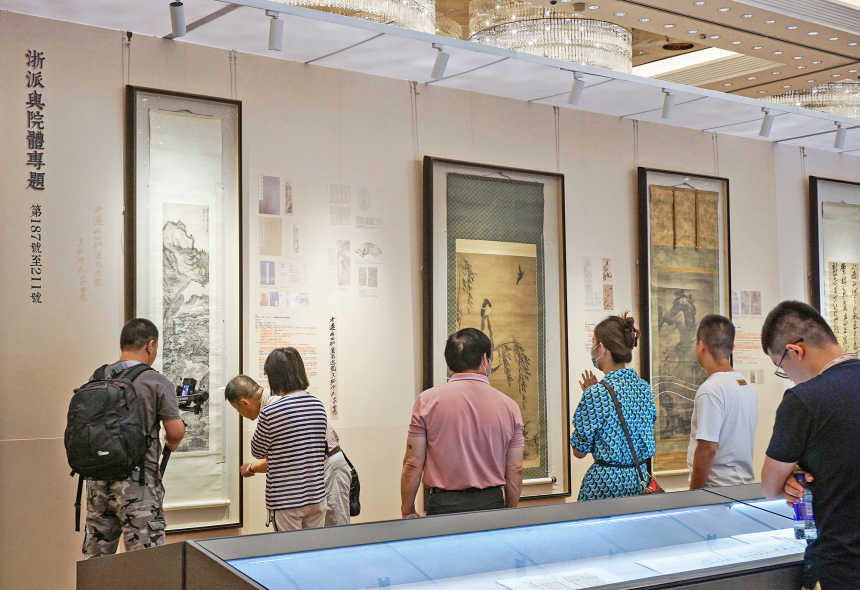 Chen Hongshou A Tall Pine Tree dedicated to Zhao Gongjian at Chen's 36 Years (First from left)
Collected by Zhang Daqian and authenticated by Xu Bangda
Starting Price: RMB 3,500,000
Sale Price: RMB 6,095,000
Wang Qian Egrets and Magpie (Second from left)
The Painting style of Lin Liang and object of typical Zhejiang Landscape
Starting Price: RMB 1,000,000
Sale Price: 1,840,000
As the records about Wu Changshuo's last twenty-six years life, the Important Calligraphic Works attracted many attentions and aroused fervent competition for its priceless literature value. It fetched incredible RMB 15.18 million from its commencing price of RMB 3.6 million. Another lot, Gu Linshi's Yuehu Caotang, dedicated to Zhou Xiangyun and inscribed by Wu Changshuo, Kang Youwei, Luo Zhenyu, et al. started at RMB 600,000 and was hammered at RMB 6.21 million.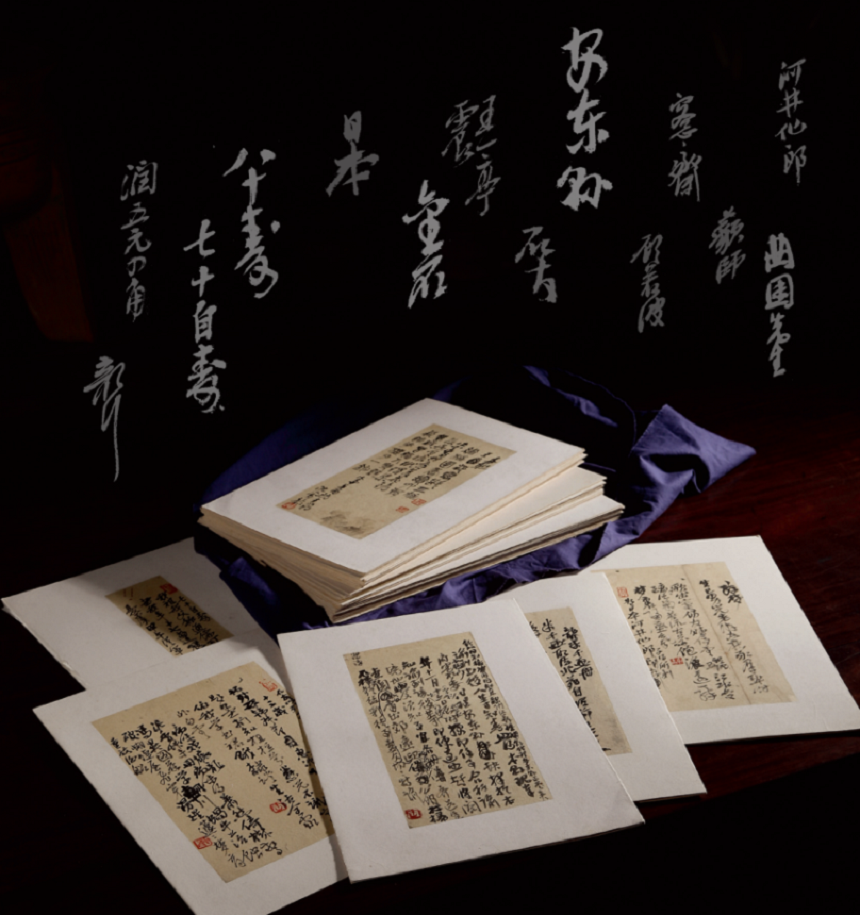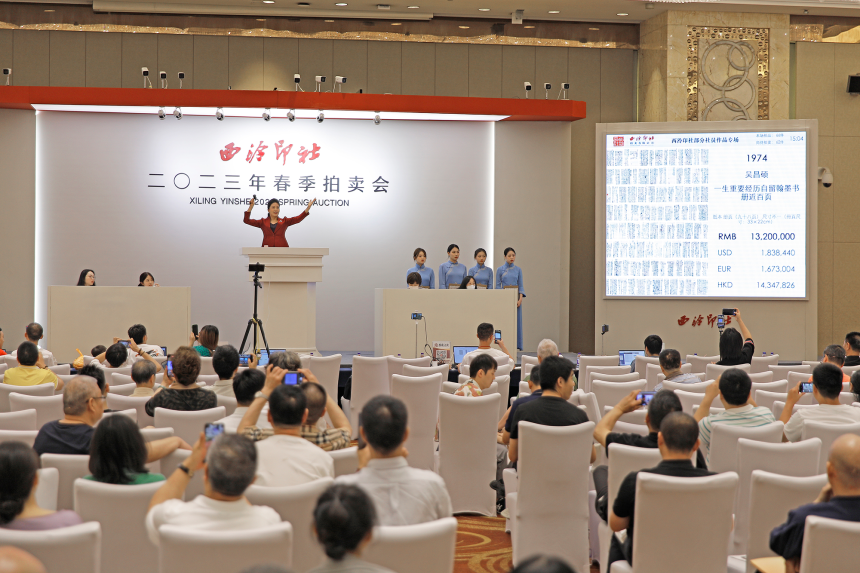 Wu Changshuo Important Calligraphic Works
Priceless literature value for its reference to Wu's one-year tenure as the magistrate of Andong
Starting Price: RMB 3,600,000
Sale Price: RMB 15,180,000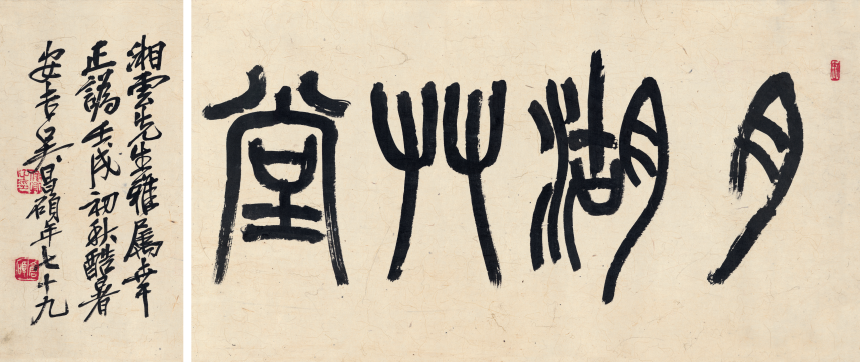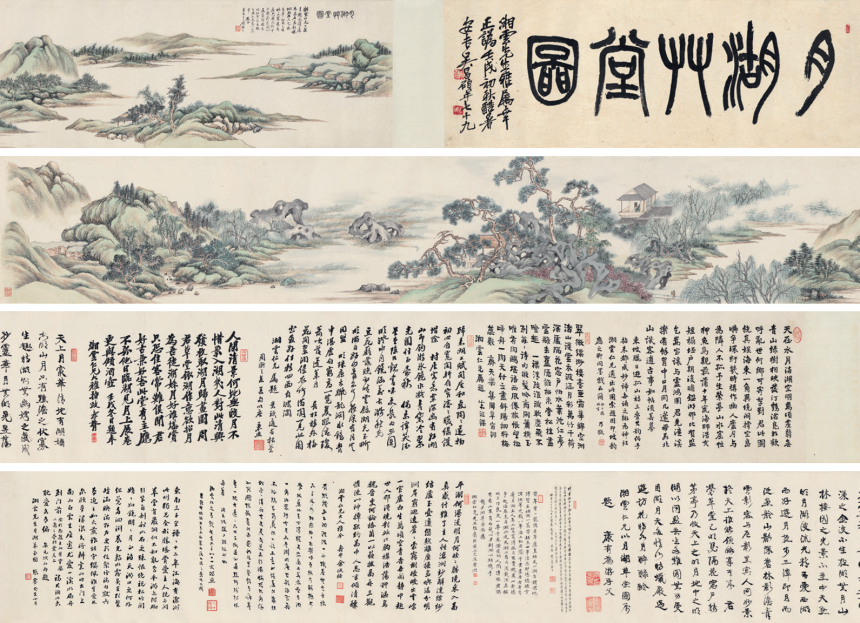 Inscribed by Wu Changshuo, Zheng Xiaoxu, Kang Youwei, Luo Zhenyu, Zhang Jian, et al.
Gu Linshi Yuehu Caotang, dedicated to Zhou Xiangyun
The record premium winner in the modern Chinese paintings and calligraphy section
Starting Price: RMB 600,000
Sale Price: RMB 6,210,000
Bearing the friendship of three giants Xu Beihong, Zheng Jingkang and Chen Lisan, the lot Horse in the Shade started at RMB 1.8 million and was sold for RMB 3.68 million. Through the in-depth study by Xiling Yinshe Auction, the masterpieces are not just about art but also a reflection of the masters' lives.
Xu Beihong Horse in the Shade, Dedicated to Zheng Jingkang
Evidence of the friendship between three masters who are good at painting, calligraphy and poetry respectively
The background stories, interpretation from different angles and historic retrospection are major aspects that Xiling Yinshe is really emphasizing. Showing our respect to the ancestors while echoing the collectors' trust, we will surely present our autumn auctions in a more splendid way.
Important Letters and Manuscripts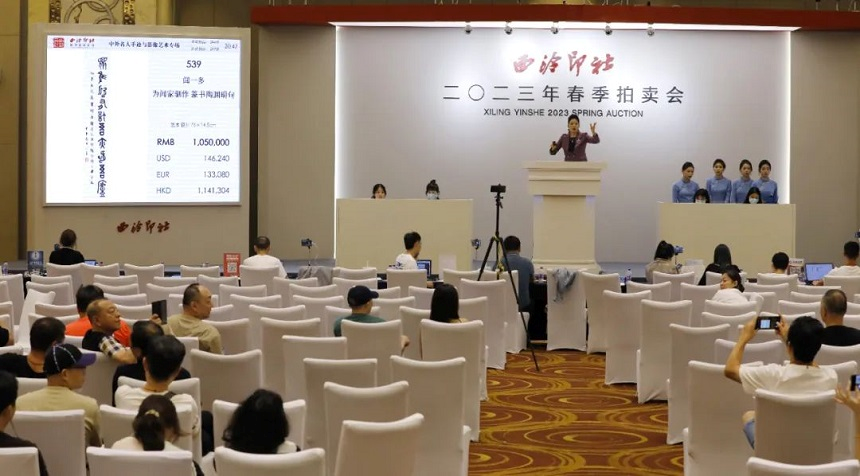 Important Letters and Manuscripts started with the lot Wen Yiduo's younger brother Wen Jiasi's calligraphy of Tao Yuanming's poem in seal script. After dozens of minutes of bidding, it was hammered for RMB 1.05 million, RMB 1.2075 million (commission included), since its estimate RMB 10,000. Then, the lot Wen Yiduo's another calligraphic work also succeeded in an impressive hammer price of RMB 1 million, having excited every witness in the hall.
Wen Yiduo Calligraphy in Seal Script
All sold for more than RMB 1 million
In the following special sales of Zhou Yingnan's dedication and collection series, two important lots stood out. One is Yu Pingbo's autobiographical style love poem of Chong Yuan Hua Zhu Ge and inscriptions which are recognized as the most complete edition to evidence their relationships throughout almost half a century. The work pertains to the West Lake and received widespread attention during the previewing. The lot was hammered for RMB 1.2 million and sold for RMB 1.38 million. Another lot Poetry Chronicles of 1949 written by Yu Youren and inscribed by Xie Zhiliu, Pan Shou and Yang Renkai closed a deal at remarkable RMB 1.265 million.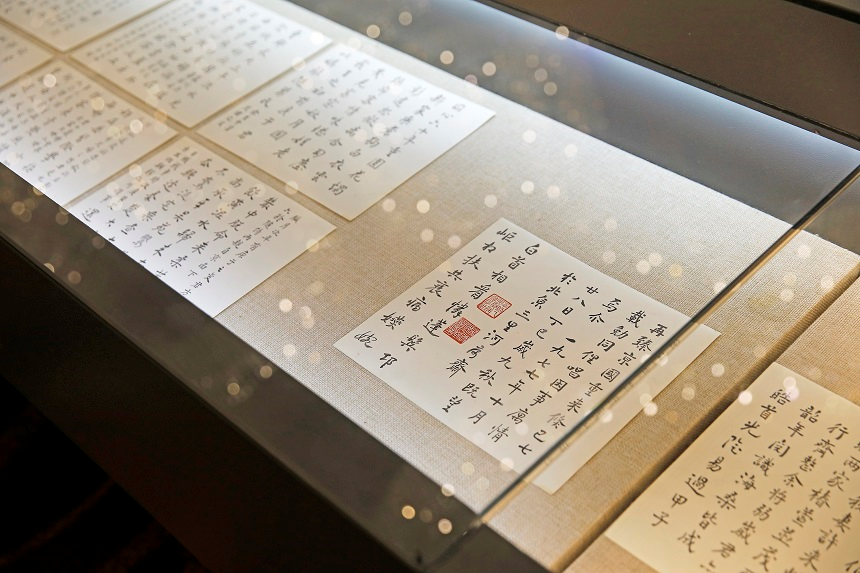 Yu Pingbo Autobiographical Style Love Poem of Chong Yuan Hua Zhu Ge, Inscribed by Ye Shengtao, Zhang Boju, Xia Chengtao, Xie Guozhen, Shi Zhecun, et al.
Sale Price: RMB 1,380,000
Modern and Contemporary Art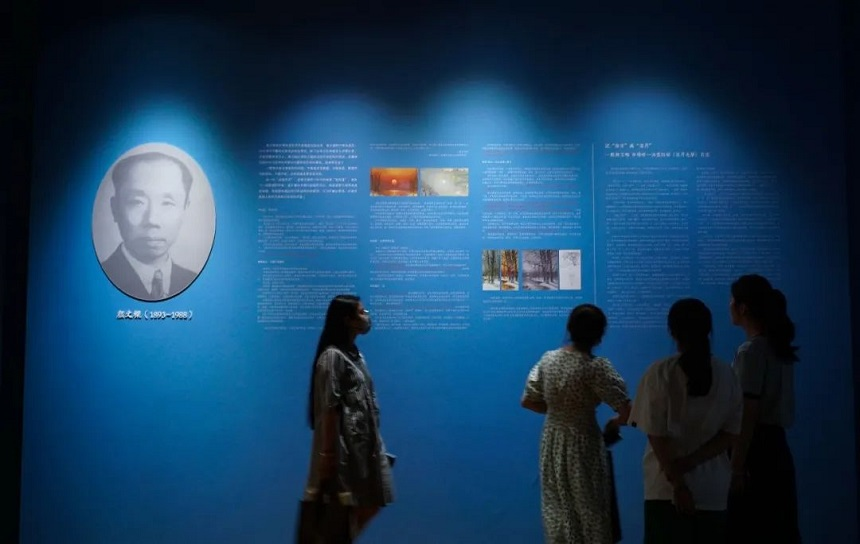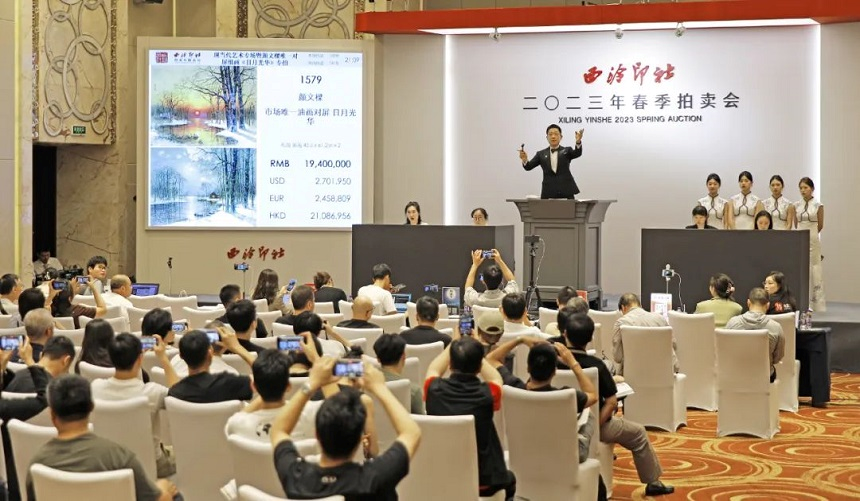 Yan Wenliang's Unique Twin Works Brilliant Sunlight and Moonlight
Sale Price: RMB 22,310,000
On the night of August 5, the sale of Modern and Contemporary Oil Paintings including Yan Wenliang's Unique Twin Works Brilliant Sunlight and Moonlight kicked off at the Hall B. There were 160 lots, all sold for RMB 91.2 million with a sale rate of 92.5 percent. At 9:00 pm, the twin works, as a stella lot predicted as the most expensive collectible, found his new master eventually for RMB 19.4 million (RMB 22.31 million including commission) after half an hour of fierce biddings.
The twin works are no doubt the representative masterpieces of Yan Wenliang who created them in the 1940s. The pictures depict two similar sceneries in two different moments, the summer dawn and winter dusk. The similar trace of charcoal left near the horizon line of both pictures proves they were carefully and intentionally conceived and designed beforehand by Yan.
Su Tianci The Song of Wu
Starting Price: RMB 2,200,000
Sale Price: RMB 4,600,000
On top of that, the sale also presented the works by the artists active in the 20th century, which were all sold with high premiums in the collectors' enthusiastic biddings. Su Tianci's The Song of Wu was sold for RMB 4.6 million, followed by Lin Fengmian's Still Life with Fish, Xu Beihong's Naked Woman and Chu Deh-chun's Lueur du Souvenir, which were sold for RMB 3.795 million, 3.22 million and 4.31 million respectively. Many gratitude to the collectors' active support and biddings.
Seal Cuttings·Inkstones
Having insisted on Xiling Yinshe's tenet of "Preserving seals, studying seals as well as paintings and calligraphy", Xiling Yinshe Auction has not just learned from seal cutting giants but also tried to present the charm and beauty of this kind of art, and even explore more history behind it.
In the sale, there was a pair of seals engraved by Wu Changshuo for Zhu Jin's private use, just like an annotation reciprocally confirmed by another lot - Wu Changshuo's rare calligraphic works which unveiled the most pivotal part of the second half of Wu's life.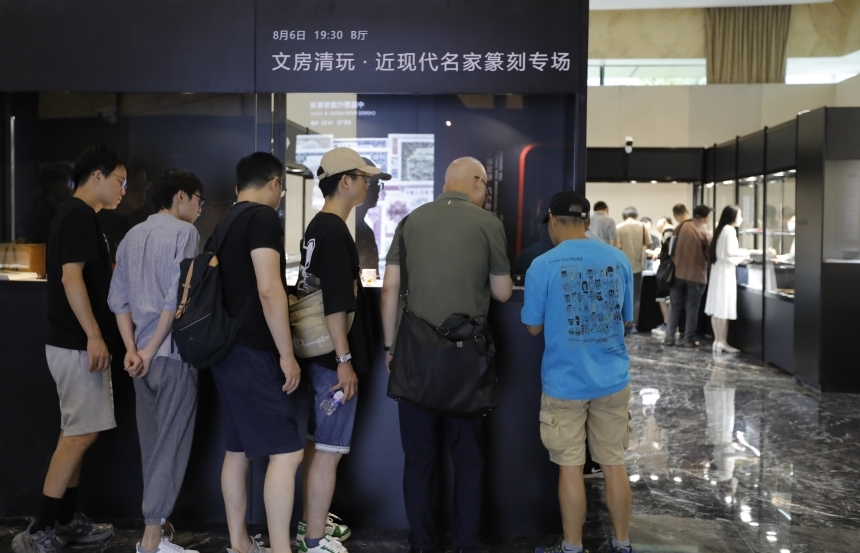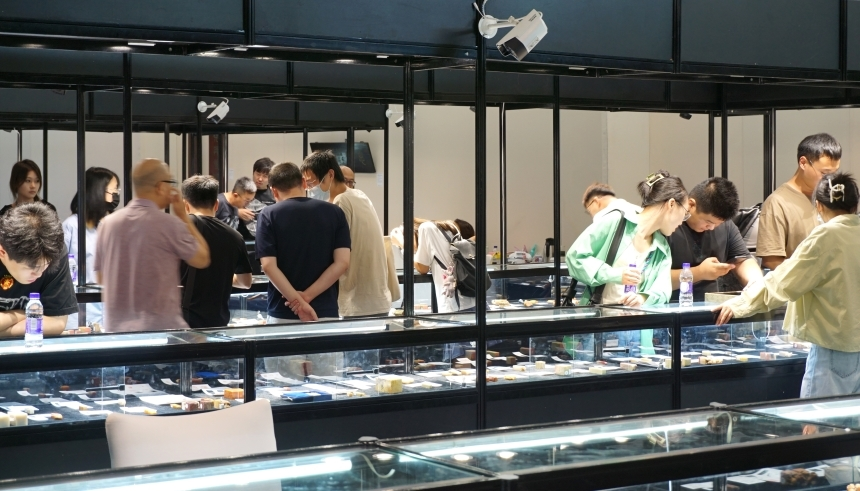 The seal and inkstone sales, Study Series·Seal Cuttings by Modern and Contemporary Chinese Masters and Study Series·Fine Inkstones and Inksticks, contributed nearly RMB 50 million in total. As an ordinarily popular sale, both have successfully won the favor among the collectors and led the seal cutting section by their effective segmentation and precise positioning of the market.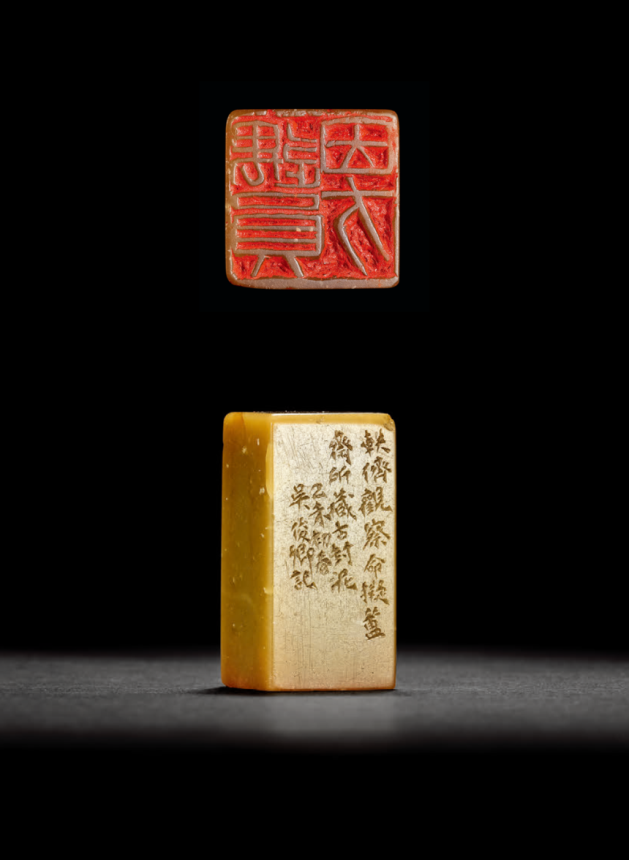 Qing Dynasty A Qingtian Stone Seal Engraved by Wu Changshuo for Shen Nenghu's Private Use
Starting Price: RMB 500,000
Sale Price: RMB 1,610,000

The works by Wu Changshuo, the first president of Xiling Society of Seal Arts, are the treasures in the eyes of collectors. Among the lots which are all concluded, a Qingtian stone seal engraved by Wu for Shen Nenghu's private use with "Yuyuan Yinfang" mark, a masterpiece of "Fengni" seal style with meticulous design and craftsmanship, was ingeniously created. The lot was finally sold for RMB 1.61 million after fervent biddings from its estimate price of RMB 500,000. Besides, Chen Yuzhong, Chen Hongshou, Zhao Zhichen and Qian Songyan's works also proved strong momentum in the market.
The special theme of the works sharing the same dedications witnessed a group of seals engraved by Wei Zikang (a disciple of Wang Fu'an) for his own private use and collected by Gao Luoyan's family sold out.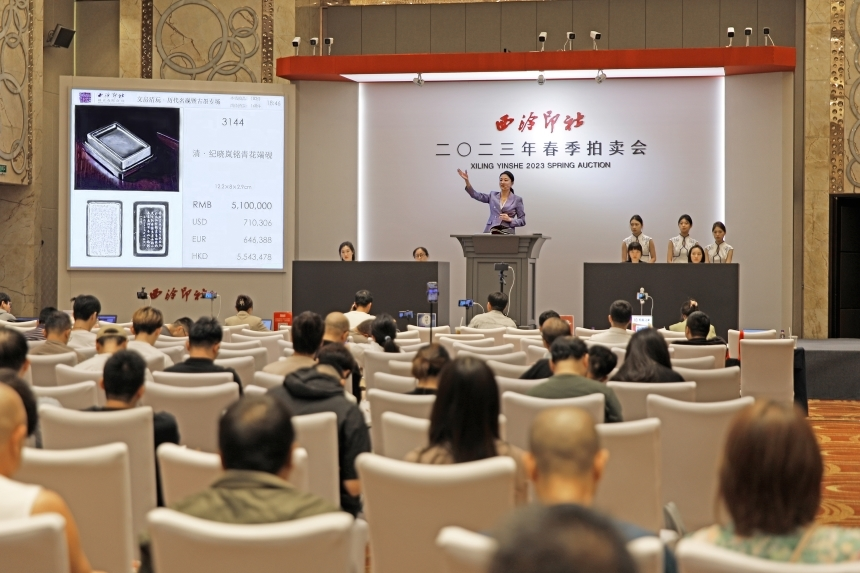 Xiling Yinshe has cultivated the literati's inkstone sales for many years, and this time the sale was topped by an inkstone mentioned in a book written by Ji Xiaolan.
Ji, as a big inkstone fan and researcher in Qing Dynasty, was paramount among those who collected inkstones. The sale presented one of his collection, a "Qinghua" inkstone which was once mentioned in Yue Wei Cao Tang Yan Pu, and very rare for its inscriptions by Ji Xiaolan.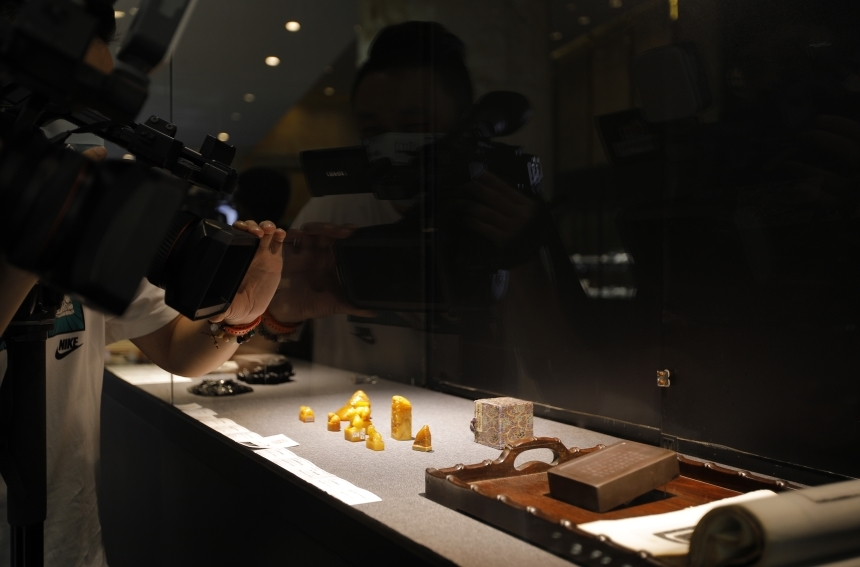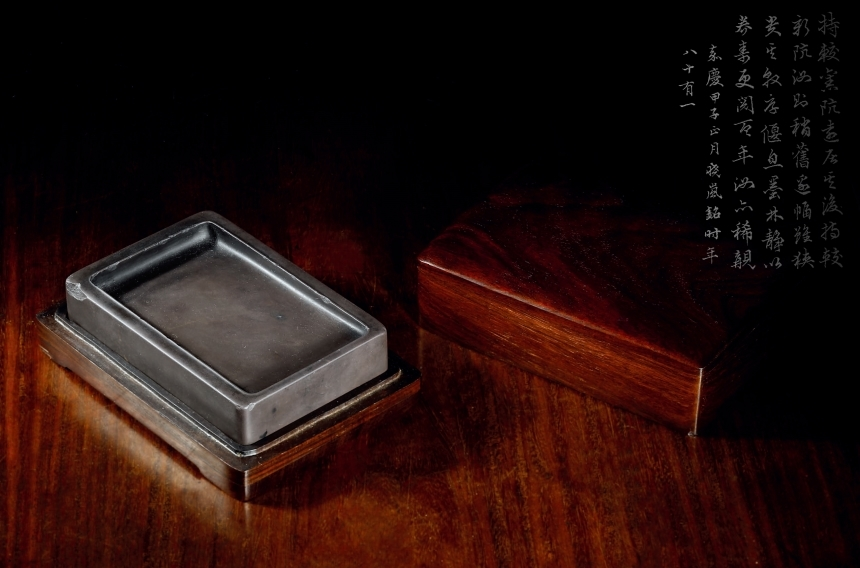 Qing Dynasty A 'Qinghua' Inkstone Inscribed by Ji Xiaolan
Sale Price: RMB 5,865,000
The most expensive among the inkstones inscribed by Ji Xiaolan
The extant inkstones which are mentioned in Ji Xiaolan's book are very few, most of which are collected in Shanghai Museum and Tianjin Museum. For almost one decade, there is no such a counterpart appearing in the market except the one, a Song dynasty inkstone authenticated by Guanyi Daoren and auctioned in Xiling Yinshe 2019 Autumn Auction. As such, the bidding for the lot soared to RMB 5,865,000 for its rarity of the "Qinghua" genre, a compelling record for the inkstones inscribed by Ji Xiaolan.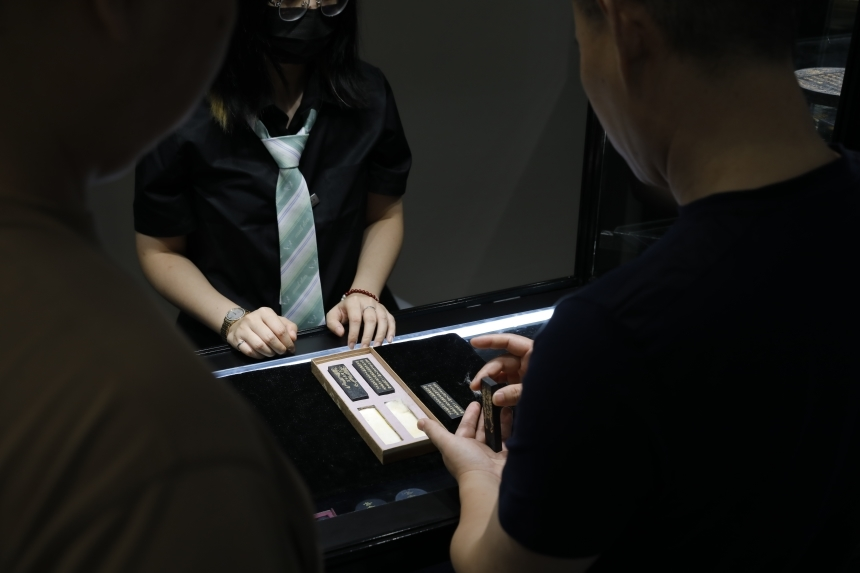 Fine Ancient Books and Rubbings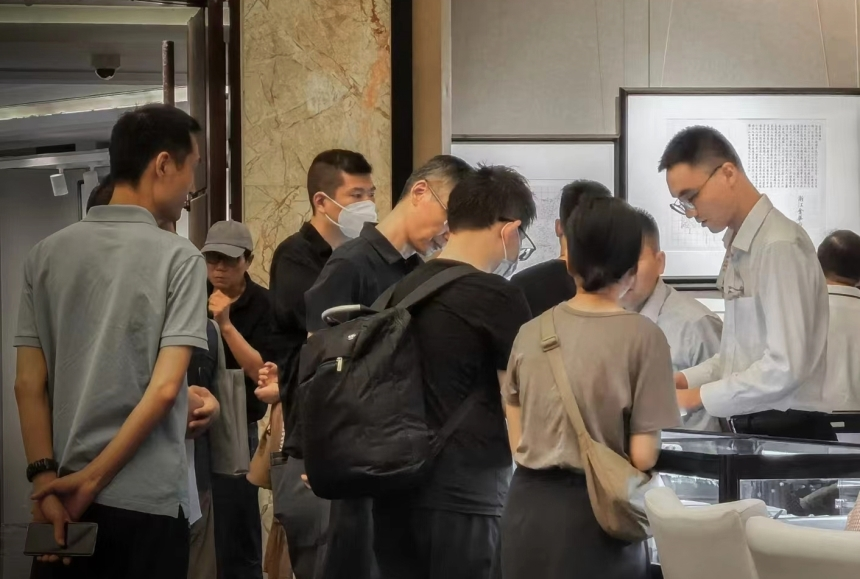 Gracing the spotlight in the distinguished assembly of Fine Ancient Books and Ink Rubbings at the Xiling Yinshe 2023 Spring Auction is a captivating Cover Lot: newly discovered three-volume Mahaprajnaparamita Sutra with inscriptions by Yan Ruxun and engravings by esteemed artisan Pang Rulin. This remarkable artifact embarks on its journey with an opening bid of RMB 800,000, eventually commanding the rapt attention of discerning collectors and achieving a remarkable final hammer price of RMB 1,955,000. This Song Dynasty blockprinted edition bears both the imprints of its time and the signatures of renowned masters, rendering it of exceptional value and significance.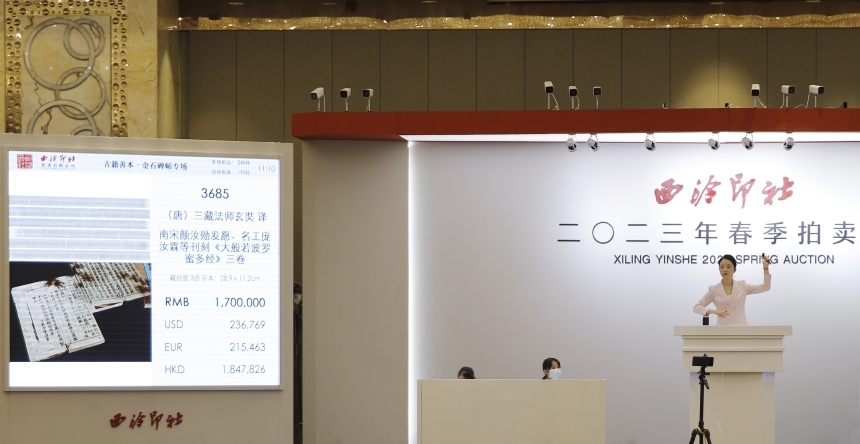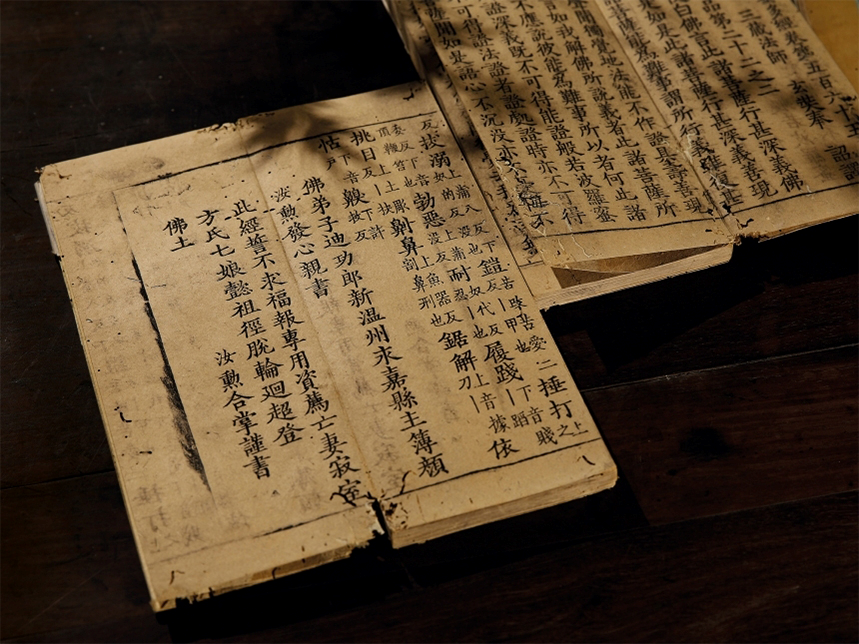 Yan Ruxun, Pang Rulin, et al. Mahaprajna-Paramita Sutra (3 vols)
Sale Price: RMB 1,955,000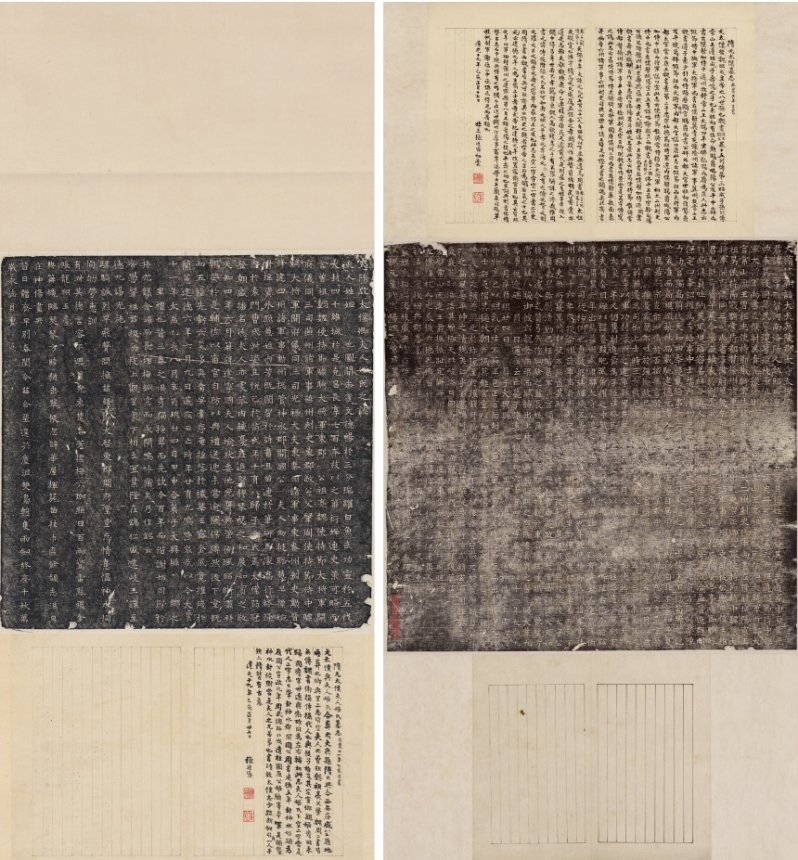 [Zhang Tingji] Sui Tai Pu Yuan Gong Mu Zhi and Yuan Gong Fu Ren Ji Shi Zhi
Sale Price: RMB 1,150,000
Within the section dedicated to rubbings and inscriptions, a noteworthy highlight emerged as Zhang Tingji's annotated Sui Dynasty Tomb Epitaph, Biography of Yuan Gong and His Consort, reaching an impressive RMB 1.15 million. The section witnessed favorable outcomes for esteemed collectibles from luminaries such as Qin Qingzeng and Guo Ruoyu, with several lots securing impressive premiums. Of particular mention is the coveted 52.9-million-yuan transaction for the earliest known edition of Qin Zuyong's seminal work, Liao Zhai Zhi Yi, a Qianlong Qing Ke Ting edition, which surprisingly emerged as a dark horse of this auction. Moreover, the assemblage of rare seal impressions, Zhejiang literary treasures, and other thematic focal points showcased praiseworthy performances, solidifying the event's success.
Zisha Works of Art
The sale of Chinese Zisha Wares, Tea Sets and Fine Tea once again demonstrated its strong appeal, raking in a total transaction volume of RMB 33.69 million with a remarkable transaction rate exceeding 92 percent. The spotlight of the event was on an exquisite piece from the early literati Yixing teapot collection – a red clay wine cup with inscription and "Chen Mingyuan" mark of the early Qing Dynasty, adorned with inscriptions from Su Shi's renowned masterpiece Ode to the Red Cliff. The inscription reads, "A wine of profound meaning, aged in seclusion, meant for true gentlemen." Chen Mingyuan's masterpiece, known for its profound connection to ancient traditions, had gained recognition among calligraphers and bibliophiles during the late Qing dynasty. In this spring auction, discerning collectors with an eye for treasures recognized its unique value, leading to the cup's impressive final bid to RMB 8.625 million.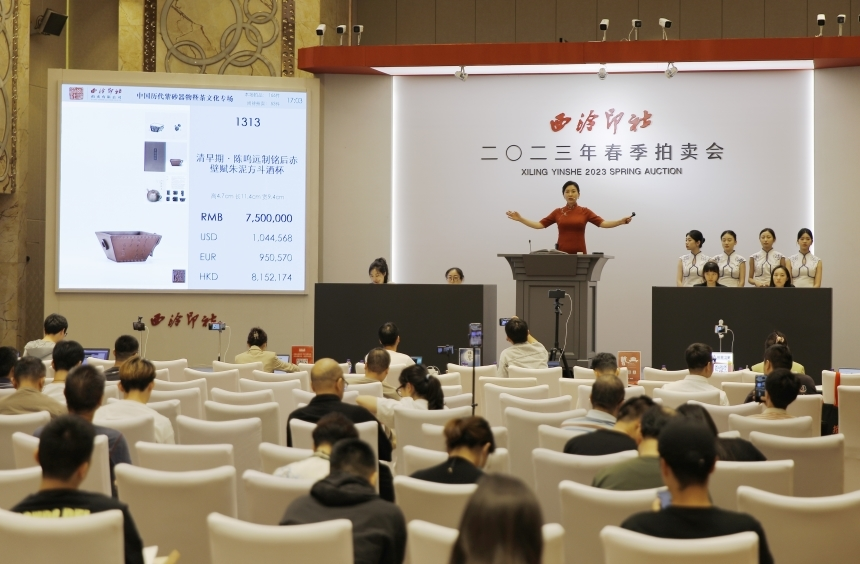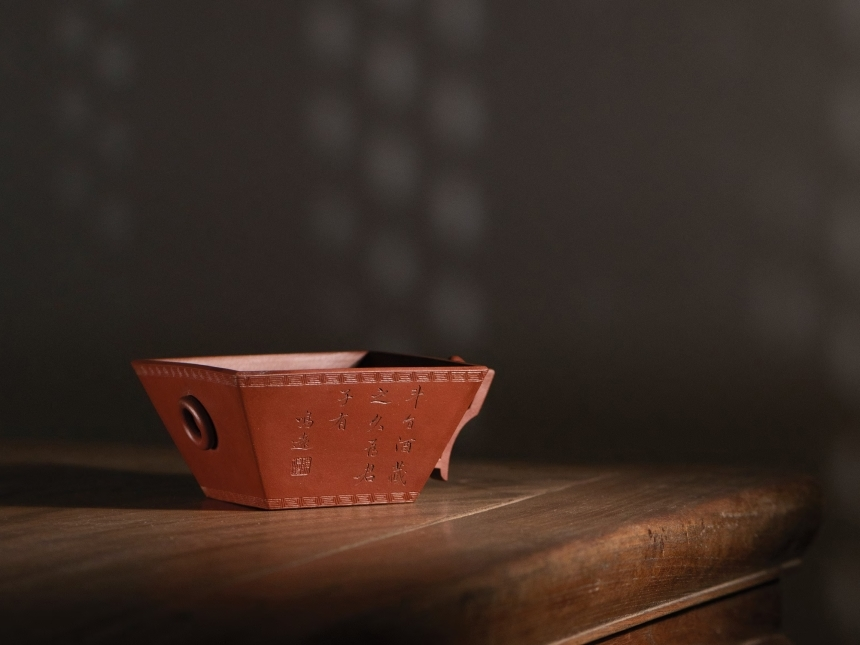 Early Qing Dynasty A Red Clay Wine Cup with Inscription and 'Chen Mingyuan' Mark
Sale Price: RMB 8,625,000
The allure of Yixing red clay works has long captivated collectors due to their compact yet intricately detailed designs and luxurious textures. Xiling Yinshe Auction's ongoing tradition of specialized redware auctions continues to yield impressive results, and the current event is no different, with high values consistently surfacing. This trend of strong performance underscores the enduring stability of this category. Furthermore, in the realm of contemporary Yixing Zisha works, renowned artisans such as He Daohong and Tang Binjie have achieved notable sales, presenting a substantial and noteworthy response from the market.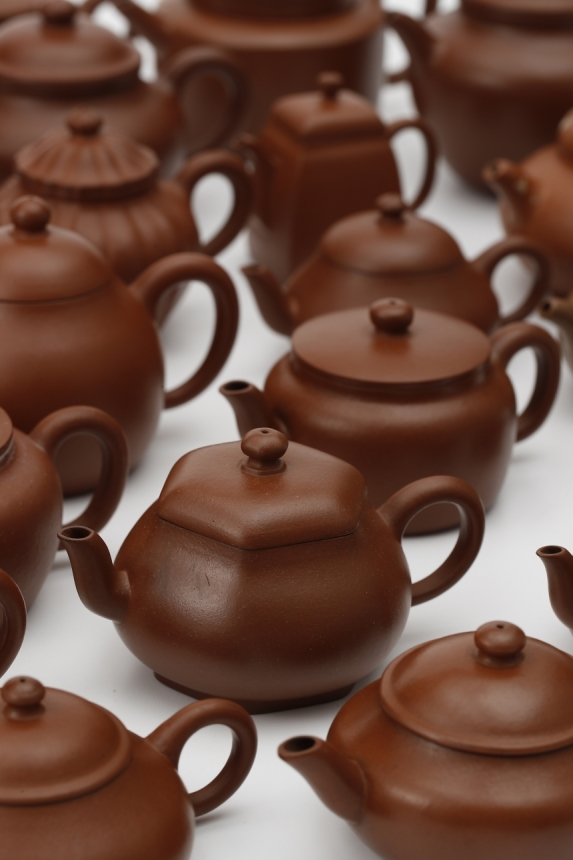 Chinese Zisha Wares, Tea Sets and Fine Tea
Red Clay Teapots
Yongzheng Period, Qing Dynasty A Hexagonal Red Clay Teapot with 'Mengchen' Mark
Sale Price: RMB 1,207,500
Early Qing Dynasty A Red Clay Teapot with 'Zilintang' Mark
Sale Price: RMB 690,000
Early Qing Dynasty A Red Clay Teapot with 'Mingyuan' Mark
Sale Price: RMB 701,500
Chinese Ceramics
The ceramic section of this auction delivered a remarkable performance, marked by two dedicated sessions on the opening day of the Spring Auction. The auction spanned nearly six hours, characterized by heightened buyer enthusiasm and fierce bidding activity, ultimately resulting in a total transaction value of nearly RMB 58 million. The overall outcome unveiled exceptional strength.
The expertly curated masterpieces and standout selections from private collections were particularly noteworthy. Notably, the "A Scholarly Journey in Jiangnan" series, an extension of the newly established thematic focus on distinctive ceramics, presented a diverse array of significant monochromatic porcelain pieces. The current Spring Auction introduced a fresh segment, "Monochrome - glazed Ceramics" which impressively achieved an in-house transaction rate of over 90 percent, garnering widespread acclaim among collectors who appreciate the finesse of antique ceramics. This endeavor has not only solidified a new direction in the Jiangnan auction market but also reaffirmed the enduring appeal of high-quality ceramic artistry.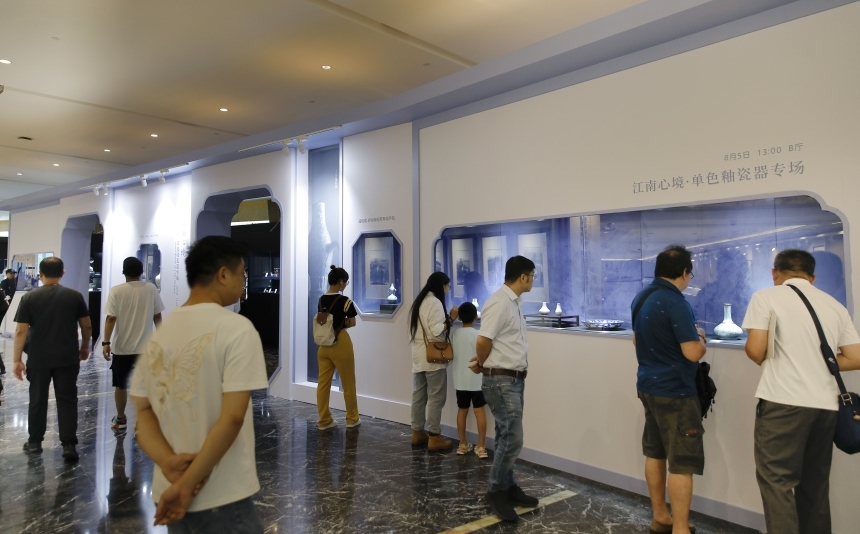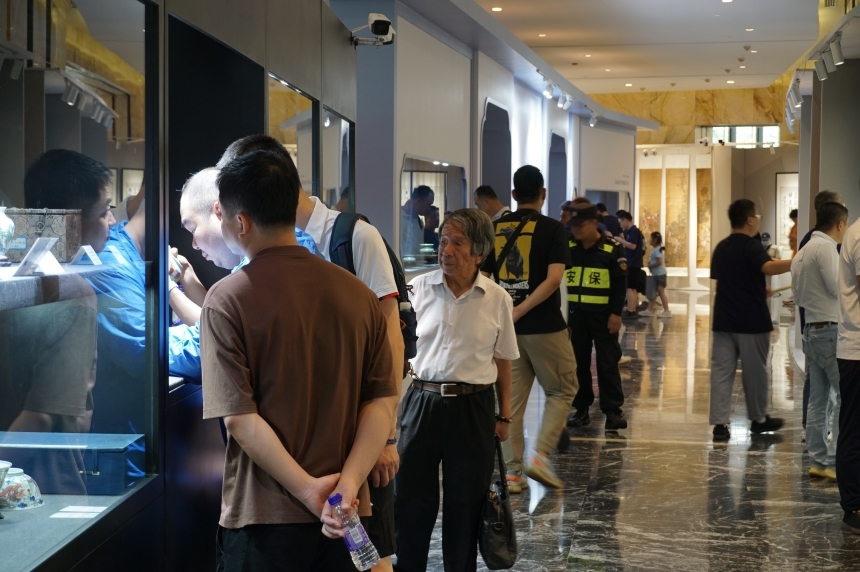 People's affinity to exquisitely crafted ancient artifacts presents yet another elevated aesthetic endeavor tailored to the refined tastes of Jiangnan literati. Monochromatic glazed ceramics embody the zenith of minimalist aesthetics, exemplifying the ancient artisans' meticulous pursuit of both color and shape. In the heat of summer, these ceramics refresh the spirit and nurture one's inner sensibilities, evoking the ambiance of a serene painting atmosphere. Within the rich assortment of porcelain types documented in Tang Ying's Chronicle of Porcelain Manufacturing, monochromatic glazes reign as a dominant force, constituting a vital facet of ceramic mastery.
The ongoing Spring Auction introduces an array of elegant monochromatic porcelain treasures, a manifestation of the intricate command over color nuances, reminiscent of the consummate artistry observed within the illustrious Qing imperial kilns.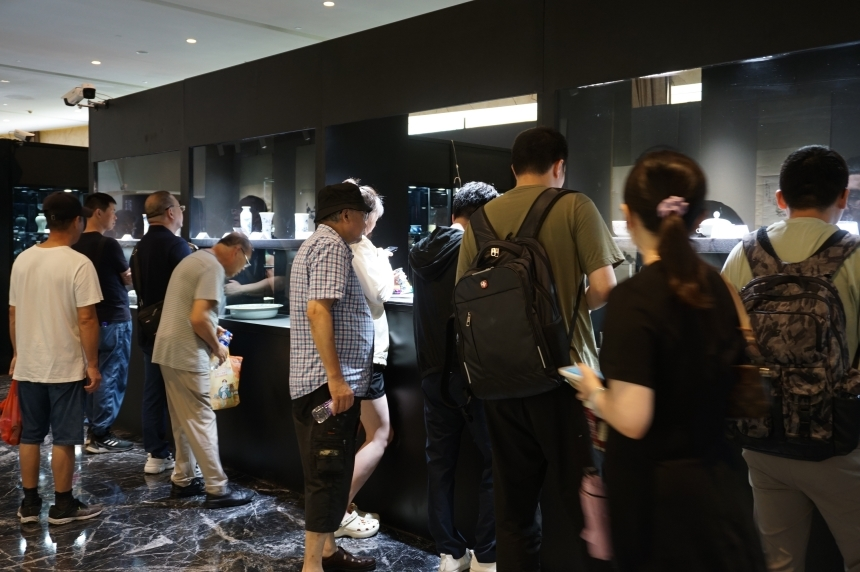 Throughout the preview period, this specialized event drew a discerning audience, including ceramic connoisseurs and art enthusiasts, who gathered to observe the curated exhibits. The venue buzzed with a steady flow of visitors, contributing to an atmosphere of heightened engagement.
A notable centerpiece of this session is a robin's egg-glazed "groud" vase with "Qianlong" mark. This exceptional artifact originates from the distinguished collection of Mr. Zhang Xiuzheng and the esteemed Hung-hsi Museum of Art in Taiwan. The appearance of a piece from the prestigious holdings of the Hung-hsi Museum of Art in the auction market is a rare occurrence in recent times, adding a significant allure to the event.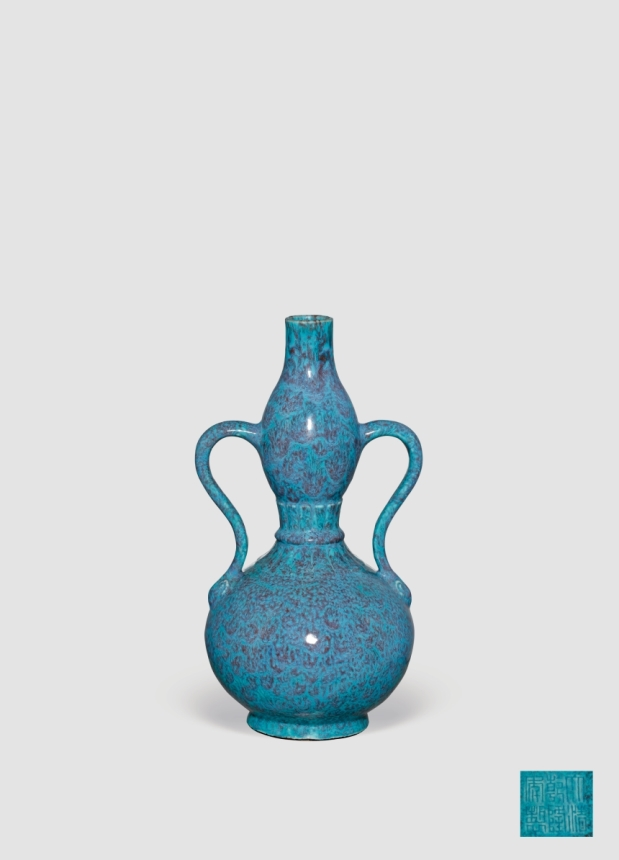 Qianlong Period, Qing Dynasty A Robin's Egg-Glazed 'Groud' Vase with 'Qianlong' Mark
Sale Price: RMB 1,897,500
After several rounds of bidding, both from in-room buyers and through telephone connections, the final hammer price for this exceptional piece reached RMB 1.8975 million. Other remarkable monochromatic porcelain treasures, all meticulously crafted during the Qing Dynasty under the auspices of the official kiln supervisors, including the renowned Tang Ying, and bearing respective inscriptions of the production year, achieved notable transactions: a pair of yellow-glazed dishes with "Yongzheng" mark from Yongzheng period of the Qing Dynasty realized a transaction value of 1.4375 million yuan; and a "ru"-style vase with 'Yongzheng' mark from Yongzheng period of Qing Dynasty fetched a final bid of RMB 1.15 million.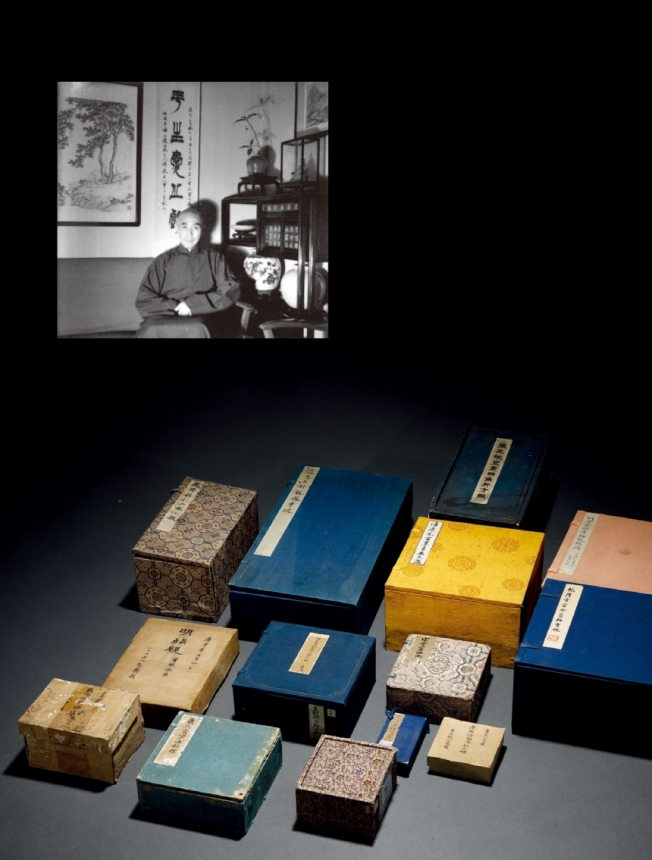 Special Session of Chinese Caremics: Collection of Qin Qingzeng (Master of Yiyuan Zhenshang Society) Achieved 100 Percent Transaction Rate
Amidst a plethora of captivating offerings, the focus of "Private Collections and Esteemed Artisan Provenance" emerges as a prominent highlight within this year's porcelain category, showing transactions that substantially surpassed their conservative estimates. Particularly noteworthy is the pivotal role played by renowned artisan-held collections. Lots No. 800 to 817 unveil an exquisite selection from the personal trove of Qin Qingzeng, the esteemed custodian of Yiyuan Zhenshang Society. In a remarkable testament to their allure, all 18 lots in this special section achieved transactions that surpassed their estimated values by multiple folds, marking their first appearance in the market with resounding success.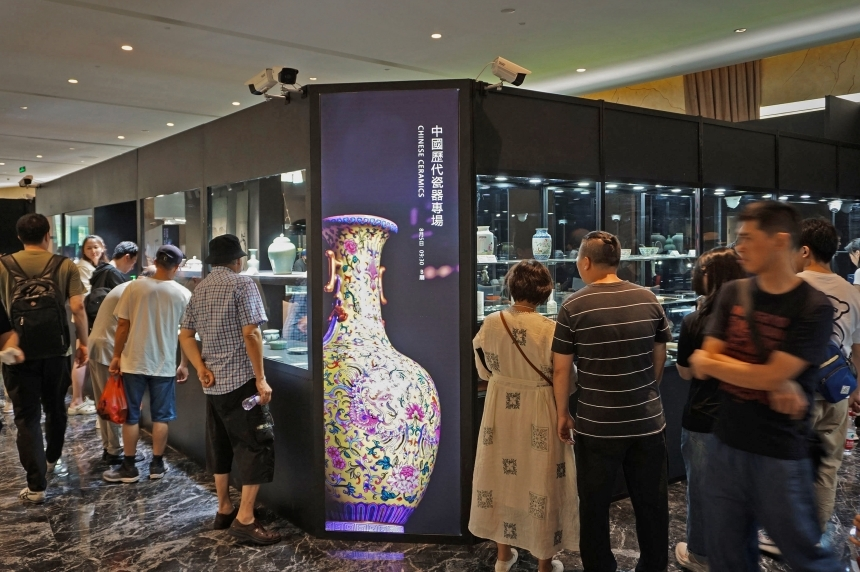 When delving into the internal segmentation of this category, the Qianlong Imperial Porcelain has consistently held a pivotal position in the auction market in recent years, and this year is no exception. The featured highlight of the ceramic section didn't let us down: a splendid yellow-ground famille rose vase with dragon pattern from the Qianlong period sold for a staggering RMB 4.255 million, securing the top spot in terms of transaction value within the ceramic category in China.
A majority of such famille rose works are predominantly preserved within the Qing Imperial Palace, distinct from the utilitarian purposes of general official kilns. Notably, the yellow-ground famille rose porcelain, such as this exquisite piece, holds a special significance as an exclusive reserve for the royal court.
Refined Articles in the Study
Within the diverse array of lots featured in this year's Spring Auction,we presented two exquisite and meticulously curated specialized sessions: Everlasting Glory-Refined Articles in the Study and Study Series-Refned Articles in the Study. These sessions encompassed a variety of distinct themes, including items from the collection of the esteemed Chenglu, significant collector's treasures of courtly artifacts, and assorted elegant insect-themed collectibles, among others. These thematic sessions garnered considerable buyer appreciation.
The two traditional sections, represented by courtly arts and scholarly objects, have exhibited the utmost stability, consistently maintaining their popularity within the market. Notably, the high-value lots within these specialized sessions were brought out with clear provenances, fostering intense in-room competition and yielding numerous instances of high-value transactions.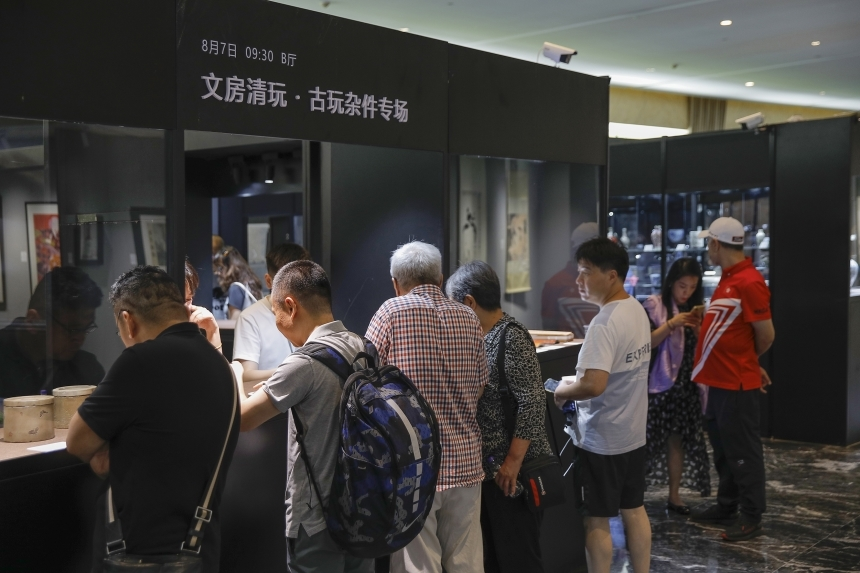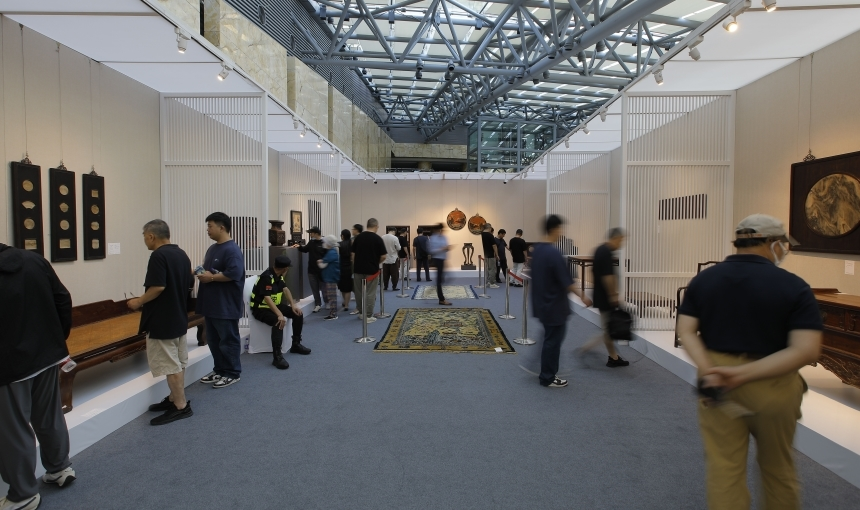 The bidding activity within Everlasting Glory-Refined Articles in the Study was vigorous, achieving an outstanding transaction rate of over ninety percent. Particularly noteworthy was the discernible uptick in bidding intensity for select lots, resulting in a notable expansion of the overall transaction value.
Among these, masterpieces by renowned artisans have garnered significant attention: a white jade-inlaid wood qin made by Wang Xinkui and collected by Xialianju from the Republic of China Period, fetched an impressive RMB 1.8975 million through intense bidding both online and offline, claiming the top position for transaction value within this Spring Auction's Refned Articles in the Study section. Additionally, a white jade brushpot with bamboo and flower patterns from Qianlong period, Qing Dynasty realized a successful sale at RMB 1.84 million.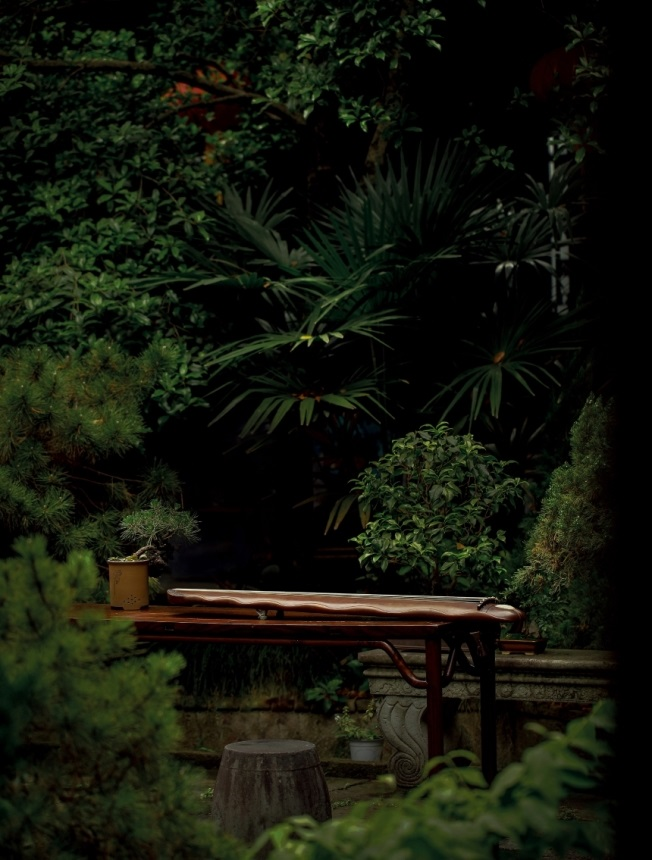 Republic Of China Period A White Jade-Inlaid Wood Qin Made by Wang Xinkui and Collected by Xialianju
Sale Price: RMB 1,897,500
The melodious echoes of the ancient Qin resonate like a timeless bond between kindred spirits. The serene notes of spring seem to evoke emotions within me. At the Xiling Yinshe 2023 Spring Auction, the allure of the Jinsitong (golden phoenixwood) Qin remains unabated, capturing the gaze of numerous buyers. Inscribed on the back beneath the Qin bridge are the phrases "Made by Wang Lu for Qu Xuan imitating the Lei's style, in the third month of the year" and "Twenty-Second in the Readings Tower of Xia Yunhu of Yuncheng". These inscriptions reveal that this plantain leaf-shaped qin, made from Jinsitong wood in the architectural style of the Song and Yuan dynasties, was crafted by Wang Xinkui for Xialianju in 1917. Its face is inlaid with white jades, carved with the imagery of lotus flowers and banana leaves, and has been cherished by Xialianju. It holds within its history the stories of intellectual camaraderie during the Republica of China period. The high prices achieved for these classical scholar's items reflect the increasing appreciation for the aesthetic value of these artifacts in the market.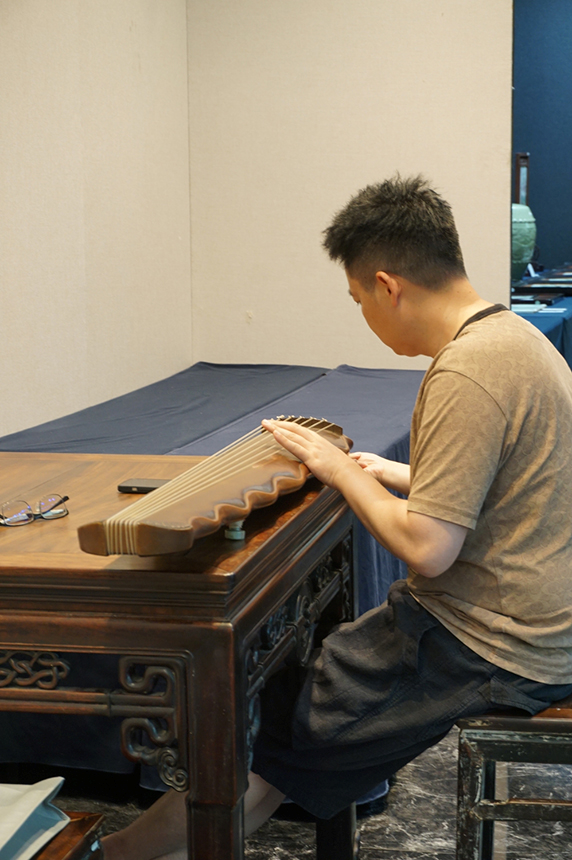 The category of Refined Articles in the Study has shown a balanced and steady growth, with auction lots distributed across various price spectrums in a well-calibrated manner. This not only guides our future selection of exceptional pieces but also underlines the need to maintain a rich yet coherent narrative while infusing scholarly expertise into our offerings. We are committed to understanding the nuanced requirements of the diverse community of collectors, thereby enabling us to curate items with greater precision and discernment. This approach will not only enhance the diversity and quality of our auction lineup but also ensure that we provide a more profound academic context for each item, attracting a wider array of new buyers to participate and engage with the auction.
Jade Carvings
The Jade Carving session of this Spring Auction showcased an array of exquisite treasures, harmoniously juxtaposing ancient jade artifacts with contemporary masterful jade carvings. This captivating combination culminated in a remarkable total transaction value of RMB 41.58 million yuan.

Amid the leisurely days of summer, where lotus blooms cradle wine to delight guests, the spotlight belonged to the cover lot of this session—a white jade "lotus-leaf" cup from Qianlong period of Qing Dynasty, which attained a transaction sum surpassing one million yuan. Crafted from the finest Hetian white jade, renowned for its lustrous and delicate texture, the cup exudes an understated yet invaluable aura. Its elegant form and intricate detailing exemplify the pinnacle of craftsmanship and aesthetic refinement characteristic of Qianlong court jade carvings. Uniting superb artistry with exceptional materials, this piece stands as a truly exceptional rarity.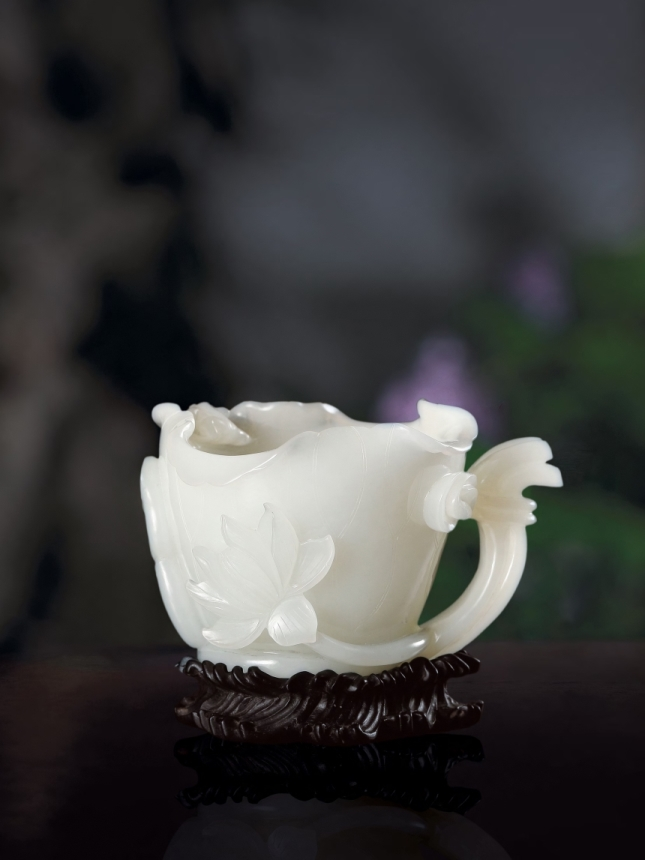 Qianlong Period, Qing Dynasty A White Jade 'Lotus-Leaf' Cup
Sale Price: RMB 1,000,500
A remarkable white jade figure of Sakyamuni, skillfully crafted by Yan Guiming, commanded a transaction value of RMB 897,000. Carved from a substantial piece of Hetian jade, this sculpture showcases intricate craftsmanship and a refined, lustrous texture. The back is adorned with a gilded patina, lending an air of sophistication. Gautama Buddha is depicted in a tranquil seated pose amidst swirling clouds and rocky formations, exuding an aura of serene composure and compassionate benevolence. The overall artistic impact is truly outstanding, capturing an extraordinary sense of presence and magnificence.
Yan Guiming (b. 1962) A White Jade Figure of Sakyamuni
Sale Price: RMB 897,000
Buddhist Art
The Elegant and Magnificent-Chinese Buddhist Art session presented a curated collection of over 170 items, encompassing sculptures, thangkas, and censers, resulting in an impressive total transaction value exceeding RMB 40 million. The auction hall buzzed with fervent bidding, and several meticulously crafted sculptures that had captured widespread attention achieved exceptional prices, accompanied by significant premium bids.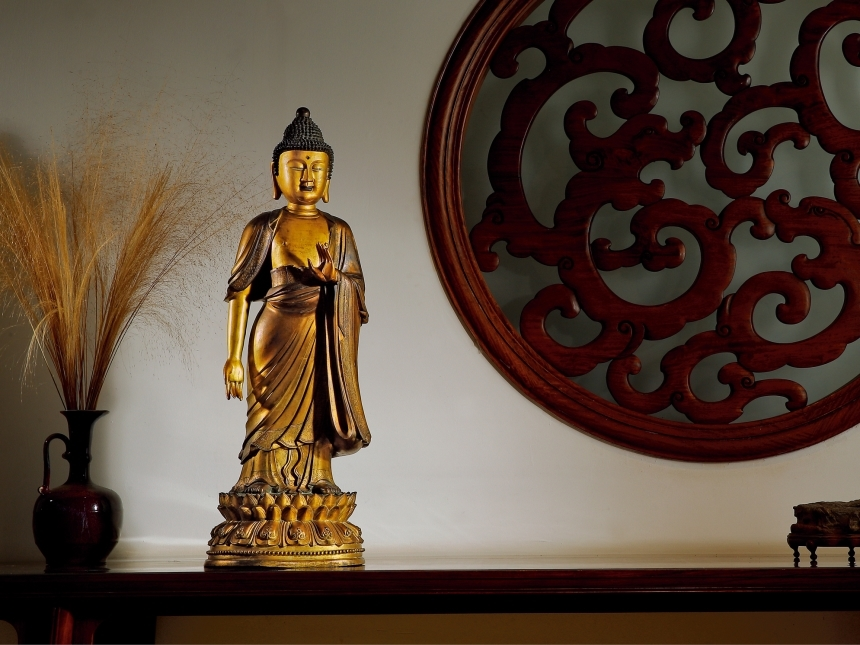 Ming Dynasty A Gilt-Bronze Figure of Sakyamuni
Starting Price: RMB 1,200,000
Sale Price: RMB 2,185,000
Among them, a magnificent Ming Dynasty gilt-bronze figure of Sakyamuni, characterized by its imposing size and distinctive period style, commenced bidding at RMB 1.2 million. After several rounds of fervent bidding from both on-site buyers and phone bidders, the statue soared to over RMB 2 million. This remarkable sculpture exemplifies the artistic finesse of mid-Ming Dynasty iconography, not only representing a pinnacle of sculptural artistry but also symbolizing a spiritual aspiration and cultural legacy.
This statue stands as a quintessential embodiment of the era's sculptural craftsmanship, transcending its status as a mere masterpiece to become a vessel for spiritual and cultural continuity. The discerning eyes of collectors in the auction hall signified not only recognition and pursuit of its artistic value but also more active cultural heritage and promotion.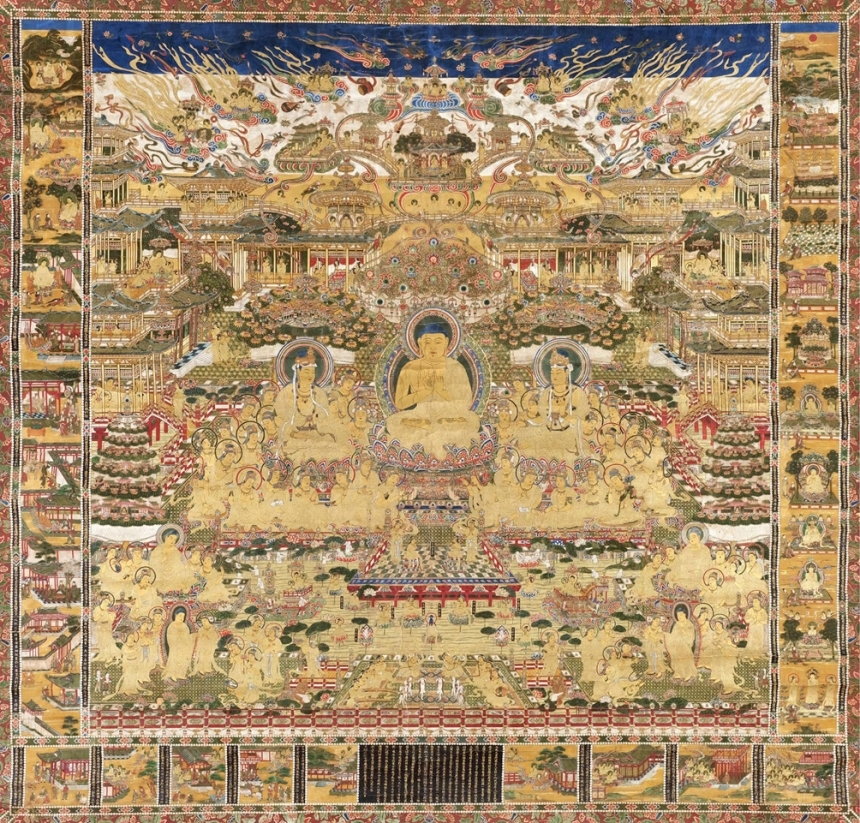 Ming Dynasty A Western Buddhist Painting
Starting Price: RMB 140,000
Sale Price: RMB 920,000
In addition, a Ming Dynasty rendition of a western buddhist painting opened for bidding at RMB 140,000 and ultimately commanded a handsome RMB 920,000 with a substantial premium. This expansive artwork, depicting the visualization of the Buddha of Infinite Life, boasts an extensive size, rich content, and intricate detailing, which is rarely encountered in existing collections. The presence of distinct commemorative inscriptions further amplifies its inherent value.
The impressive transactions of these highly prized Buddhist art pieces not only highlighted the caliber and significance of the offerings in this specialized session but also reaffirmed the captivating charm and far-reaching impact of the Buddhist art.
Chinese Paper Money and Coins
The Chinese Paper Money & Coins marked the final conclusion of this auction event. With the successful transaction of its last lot, it symbolized the successful conclusion of this auction.
The category of Chinese Paper Money and Coins at Xiling Yinshe Auction has consistently garnered significant market attention. The preview attracted enthusiastic crowds, and the auction day itself drew passionate participation from coin collectors and investors nationwide. The auction spanned over 5 hours, making it the longest in the company's history of its kind and also setting new auction records for two stella lots.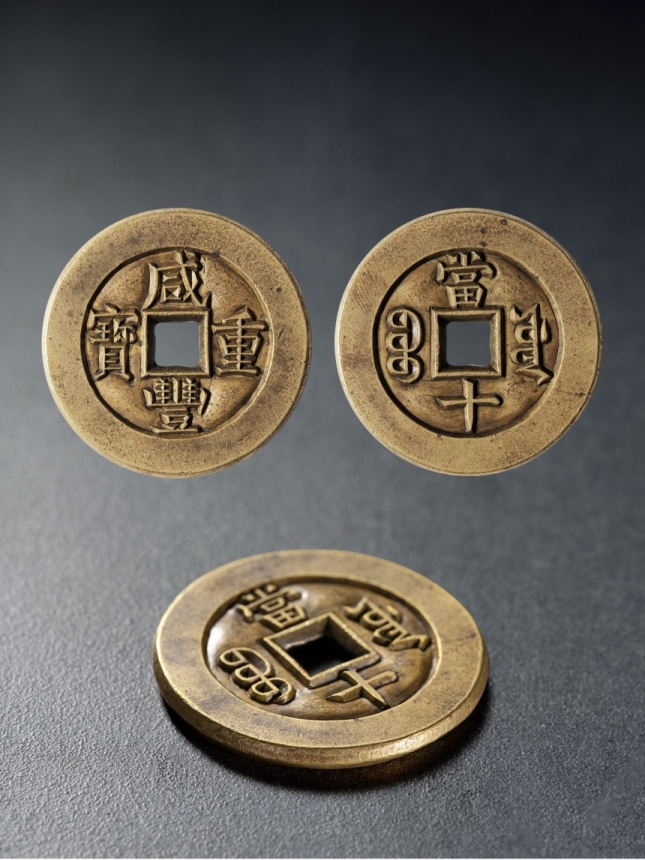 Qing Dynasty A Rare Mold Coin WITH 'Xianfeng' Mark
Starting Price: RMB 1,500,000
Sale Price: RMB 3,220,000
A Record High of Its Kind
A rare mold coin with 'Xianfeng' mark from Qing Dynasty, with its exquisite mold carving, originated from the collection of Taiwanese numismatist Chen Hongxi and was passed on through the hands of collector Zheng Yawei. When it appeared on the auction block, it instantly captivated the audience. Opening for bidding at RMB 1.5 million, the coin witnessed intense bidding competition, leading to a final sale price of over RMB 3 million. This set a new record for the highest transaction of the kind.
This coin carries a rich heritage and has been featured in the publications Four Hundred Kinds of Rare Coins in Qing Dynasty and Appreciation of Rare and Precious Entertaining Coins. It previously made headlines in the Xiling Yinshe 2017 Autumn Auction, where it fetched a transaction price of RMB 1.0695 million. This achievement had already sparked significant market interest. After a span of five years, this coin returned to Xiling Yinshe Auction, commanding a price over three times its previous value. This serves as a testament to the strong demand and exceptional collectible attributes of top-tier carved mold coins in the coin and banknote market.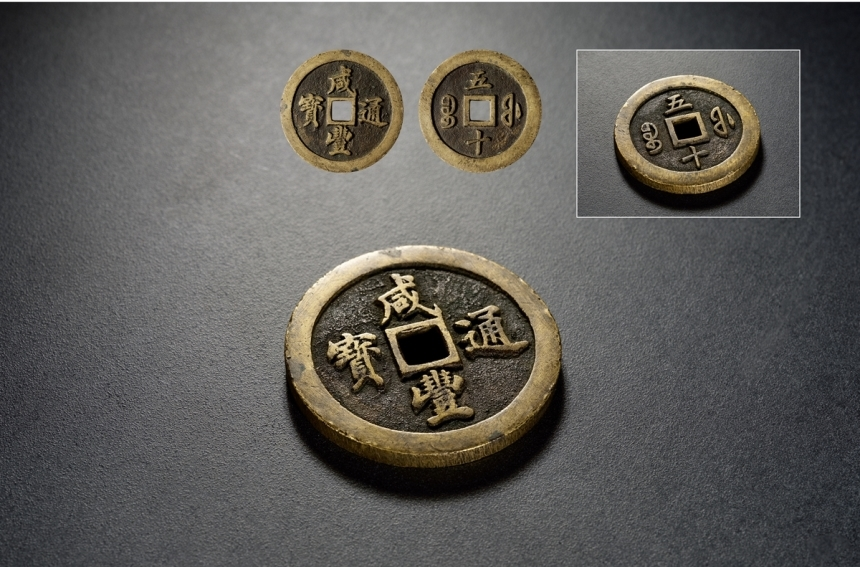 Qing Dynasty A Coin with 'Xianfeng' Mark
Starting Price: RMB 150,000
Sale Price: RMB 1,035,000
Furthermore, a coin with 'Xianfeng' mark from Qing Dynasty proved to be a prime example of substantial premiums in this session. Commencing bidding at RMB 150,000, the coin underwent rounds of competitive bidding from on-site buyers, ultimately achieving an impressive transaction price of RMB 1.035 million. This created a new record for the highest transaction of this coin category. The soaring transaction price has once again reignited market enthusiasm for large coins from the Xianfeng period, especially those from the Bao Fu Bank.
Illustrations & Comics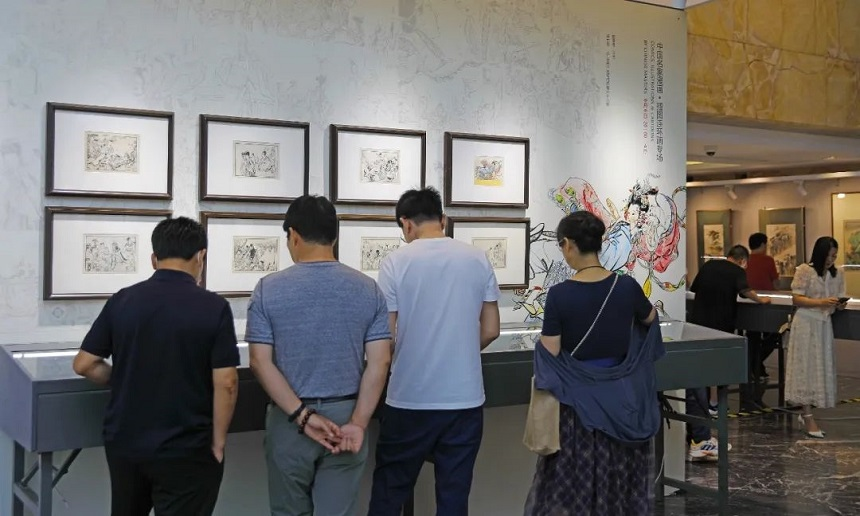 Comics, Illustrations & Cartoons by Chinese Masters brought together a meticulously curated collection of 130 artworks, offering a diverse array of masterpieces ranging from calligraphy to paintings, year-end picture serials, illustrated drawings, and print sketches. Each piece was thoughtfully chosen to cater to the tastes of collectors.
Thematic sections dedicated to esteemed artists such as Huang Yongyu and Feng Zikai achieved commendable results in the auction. Notably, Wu Guangyu's new-year painting of Zhuo Wenjun, resulted in an impressive transaction price of RMB 1.725 million. Similarly, Xie Zhiliu's Spring View of the Mountain Village attained a transaction price over RMB 1 million.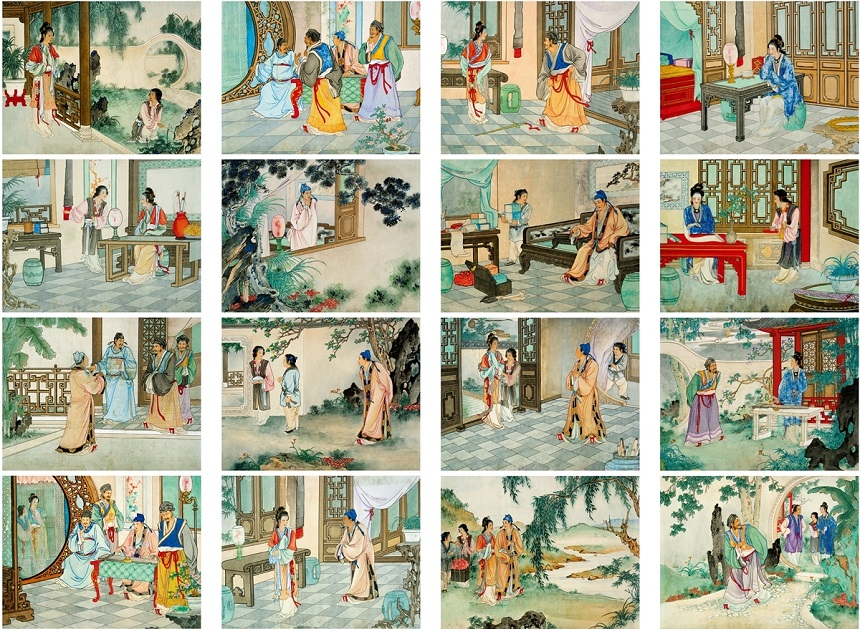 Wu Guangyu (1908-1970) Original Works of New Year Paintings Zhuo Wenjun
Sale Price: RMB 1,725,000
Magnificent Jewels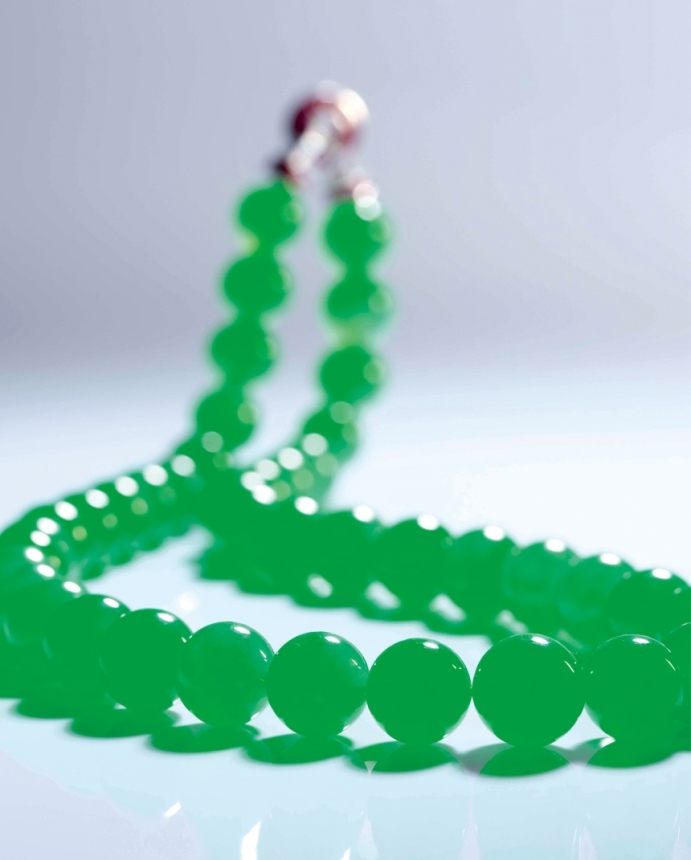 An Extremely Fine Jadeite Necklace
Sale Price: RMB 20,470,000
Jade, renowned for its quintessentially Eastern essence, captivated the auction floor as one of the most attention-grabbing jewelry categories. Exceptionally rare and exquisite high-quality jade lots continued to be the pursuit of collectors. In this spring auction, an extremely fine jadeite necklace of Heaven's Pride stole the spotlight. Its flawless natural texture, supreme vibrant green hue, rich translucency, and smooth delicacy culminated in a significant transaction price of RMB 20.47 million.
The Art in Life
The Art in Life: Famous Chinese Wine, Tonics and Western Antique Works of Art seamlessly blended the realms of aesthetics and culinary delights, offering attending collectors a unique and captivating fusion of visual and gustatory pleasures. Within this context, the category of fine wine remained a dominant force, with an array of both domestic and foreign vintage becoming the focus of the auction. The 1997 Bowmore Mizunara single malt Scotch whisky, in particular, emerged as a significant highlight of this session.
Bormore, Mizunara Single Malt Scotch Whisky 1997
Sale Price: RMB 1,840,000
The lot, a pinnacle representation of Bowmore's renowned craftsmanship, took center stage during the auction. The excitement of competitive bidding in the specialized session led to its triumphant sale at remarkable RMB 1.84 million.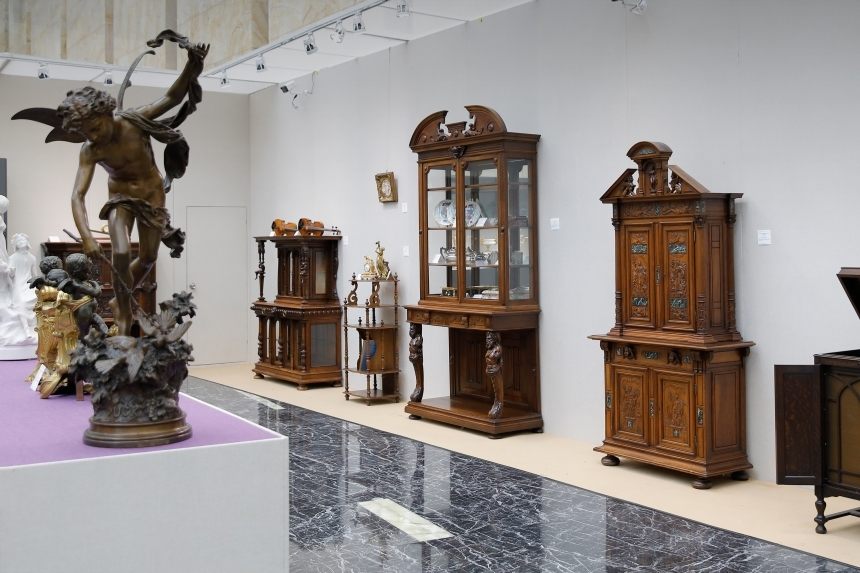 Western Antique Works of Art equally shone with remarkable success. Renowned sculptural artworks, exquisite jewelry pieces, and fine Western furniture, all intimately connected to daily life and aesthetics, received enthusiastic appreciation from collectors and achieved highly satisfying transaction results.